Junior Member
Join Date: May 2009
Location: Marshall VA
Posts: 115
Pics of 2005
---
Guys with aftermakret wheels on 2005.....post up your pics
---
2005 Chevrolet Silverado 4x4
2500 HD 6.6L Duramax LLY
Allison 5 Speed, Extended Cab Long bed
www.huskerdiesel.com
moto metal 950 with 285 bfgs
---
DUSTIN...04 LLY DMAX
EFI LIVE DSP 5 BY IDAHOROB
http://www.atptrucks.com/
Danville 66mm stg2
GMax5 + ML Built by me
airdog II,AFE MP+Intercooler tubes
http://www.meyerperformance.com/
7" Cognito Lift XD Monsters and 35"s,7" FTE Single stack, Tracton Bars, all the front end goodies, egr blocked, FRSK, 06 grill/ hood/mirrors, sunroof, 50g transfer flow tank and many more
1983 chevy 12valve cummins, nv4500,and some other stuff
Let men marry men and women marry woman...in 3 more generations there will be no more democrats
Junior Member
Join Date: Apr 2008
Posts: 136
Szymodmax, I have identical truck as you but 06 lly. Do you have a leveling kit on your truck. I t doesnt look like it. I was thinking about upgrading tp same tires as you from my bridgestone dueller 265/75/16 but didnt want the hassle of leveling and all that. Do yours rub at all? did you crank the torsion bars? Any significant mpg changes? Nice lookin truck by the way.
---
2006 DURAMAX CREW CAB W/ AFE TURBOBACK SS PPE STANDARD @160 TRANSGO JR
no rubbing at all just cranked my t bars a little and trimmed my front bumper back a little. mpg. i think i lost a mile to the gallon but its worth it. her are a few better picts
it gives it a wider front stance also
i had to cut the bumper back just a little
---
DUSTIN...04 LLY DMAX
EFI LIVE DSP 5 BY IDAHOROB
http://www.atptrucks.com/
Danville 66mm stg2
GMax5 + ML Built by me
airdog II,AFE MP+Intercooler tubes
http://www.meyerperformance.com/
7" Cognito Lift XD Monsters and 35"s,7" FTE Single stack, Tracton Bars, all the front end goodies, egr blocked, FRSK, 06 grill/ hood/mirrors, sunroof, 50g transfer flow tank and many more
1983 chevy 12valve cummins, nv4500,and some other stuff
Let men marry men and women marry woman...in 3 more generations there will be no more democrats
---
Last edited by SzymoDmax; 06-12-2009 at

12:19 PM

.
put 35's on it it'll look better
---
05' Chevy LT Black on Black LLY CC/SB Blackout Performance built motor/trans/tuned- Gone

"The Blessed Hellride"-08' GMC Sierra SLT Z71 CC/SB White

Big Dipper Reger proof trans, some sissy tunes, 35's and old school built front end
Done with it
American Racing Chrome Wolverine 20x9 w/ Good Year Wangler 10 Ply 275/65/R20
---
2005 2500HD LLY CCSB 4x4
EFI LIVE, DSP5, ROB'S TUNES w/ 170hp & 230hp,
AIRDOG 150, AFE INTAKE STAGE II, AFE BOOST TUBES, 5" STRAIGHT PIPED, AFE BLADERUNNER, SUNCOAST IV N.A.D.P. HEAVY HAULER TRANS w/ DEEP PAN,
20" BMF NOVAKANES, 2" LEVELING KIT, AIR BAGS,
50 GAL. SLIP TANK
Banned
Join Date: Dec 2008
Posts: 189
35 Toyo MT on KMC Rockstar 18s
17" KMC rockstars for the dually... its an 06 or an 07... but you get the idea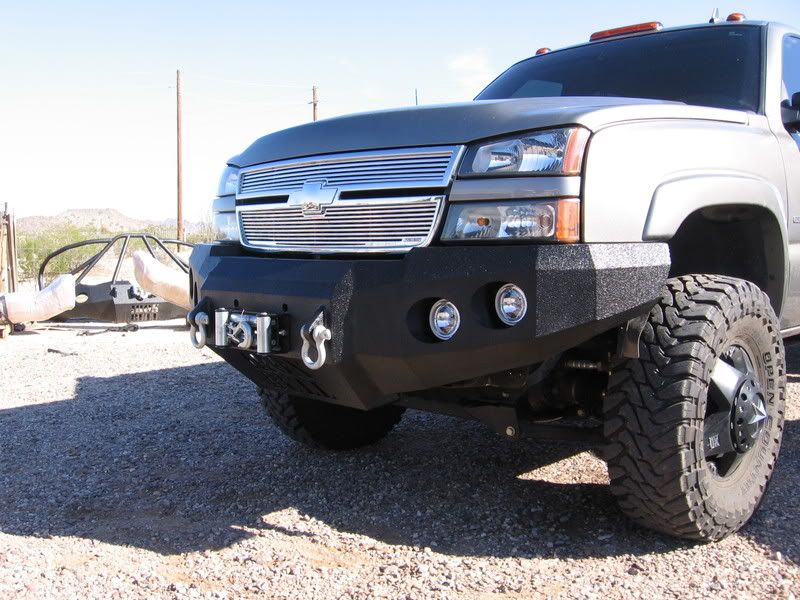 ---
-Bill :booboo
I'm really good at 'Guitar Hero,' and I thought maybe I should get a guitar.
Then I thought, like, I'm really good at 'Grand Theft Auto.' Maybe I should start beating up hookers
Heres a pic of my 05 with my old 20'' weld wheels and 38'' toyos.And a pic with my new wheels,black Rockstars..
---
2005 Chevy 2500 cc sb with 12'' Full Throttle lift with 20's and 38's,Juice/Tude,LBZ MP,4'' Diamond Eye straight pipe/6" tip,K&N/Airbox mod,Ressy plugged,4 Kicker 10's/2 Amps/TV/DVD,Smoked head and tails,N-Fab steps,painted front end..
---
Last edited by BigRedChevy; 06-20-2009 at

02:19 PM

. Reason: Pic Formating