The White Whale Build Thread
---
So never did a build thread for my old truck, but figured I would do one for the new truck, not for you, but for me, so I know what I've done to it. After dumping money into my LB7 I know what I want to do to this truck, in what order....
First off, a tribute to my old LB7, she was a amazing truck, I beat the piss out of her and she just kept going, super strong, a pure and simple workhorse.
02' Silverado 2500HD CCLB 4x4 had EFI Live built trans tunes controlled by a Edge Insight CTS (tuned by Kory - PPEI), Magnaflow 4"-5" Turbo Back, Magnaflow DP, S&B CAI, PPE Boost Valve, Airdog II 165gph, BDS 4.5" Lift, Deaver 2" Mini Pack, Kryptonite UCA's, Fox 2.0 Shocks, B&W Turnover Ball Gooseneck, Tekonsha P3, Dmax Store 1 Piece Driveshaft, PPE Stage 5 Trans, Russell SS Brake Lines. Tragically, a combo of crazy rain, tires needing replacement, and me being on the race tunbe (forgot to turn it down when it started raining) ended in it being hurdled over the center divide and landing on its side. Insurance totaled her out. Please a moment of silence, RIP 12-15-2016...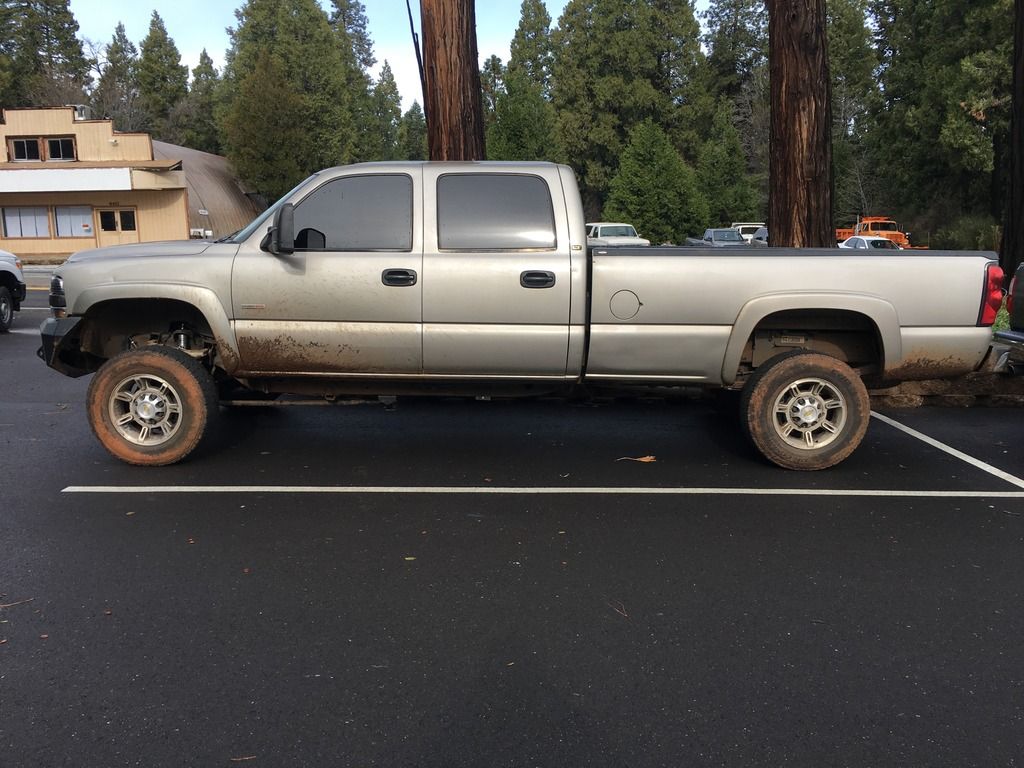 That being said, cant be without a truck, need something to put hay in and haul the livestock around with. So the hunt began for a CCLB SRW, I was looking for a LBZ or LMM as I wanted something without injector or headgasket issues, and something with a Allison 6 speed. Ended up finding a white, with black interior LBZ, fully loaded LMM in Seattle, WA, after some haggling with the dealer, got down to 25k (they were asking 28k). Hopped on a plane, and 14 hours later she is home....
Need to get get weighed, VIN verified, smogged, then go sit at DMV so I can pay my taxes and registration and get my plates....
So, a list of whats going to get done over the next month or 2
-Lift pump (pulled my ADII 165 off my LB7)
-Mount my toolchest in the bed
-Pull the flares off and hopefully keep them off depending on how the paint looks, if not paint them white
-Remove some of the badging and moulding
-Paint rear emblem on tailgate
-elevation (trying to decide if I want to throw my Kryptonite UCA's on it and level it, or through 2" blocks on the rear and a Cognito or BDS 4" lift on the front) that would give me perfectly level stance and flat CV's (not to mention I have my brand new Fox 2.0's that I pulled off my old truck with the same setup)
-wheels (hate the wheels on it), and I had bought brand new SOTA SSD's for my LB7, totaled it the day before I mounted them, so they are sitting in my shop and would look great on this truck
-Nictane adapter so I can run CAT filters
-Buy a VIN license, get some mild stock trans tunes, block EGR, remove cat and DPF (will need to put it in every other year for smog)
-Replace headlights with LED's
-Some Weathertech floormats
-Replace the nerf bars with N-Fabs (i bought a set for my LB7 and they arrived the day I totaled it, so will exchange for ones for this truck)
-Fluids, treat her to Amsoil full synthetic (front diff, read diff, transfer case) flush coolant, dump and fill + filter on the trans, just got her oil changed so im ok there...
-3 pod pillar gauge mount (EGT, boost and oil temp)
-backup camera (makes hitching up the bumper pulls so much easier)
And other stuff thats planned-
-Front bumper, I did a Road Rhino WIY on the last truck, debatting between that or a Trail Ready, love the look of the trail ready, but they are $$$$$
-Built trans
-air bags
-onboard compressor
-weld up a headache rack
-most likely replace the rear bumper with something heavy duty
And build/VIN Info...
How she sits currently...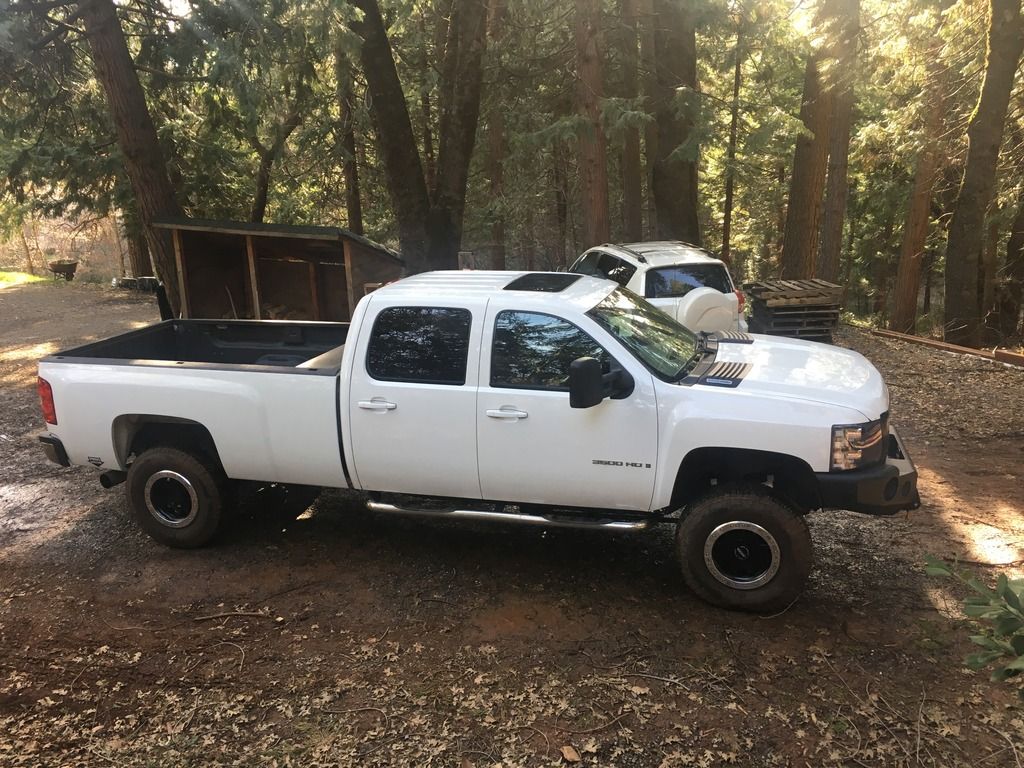 ---
Last edited by novaman64; 03-20-2017 at

08:49 AM

.
---
Last edited by novaman64; 04-21-2017 at

08:47 PM

.
Junior Member
Join Date: Sep 2016
Location: Santa Fe, Texas
Posts: 189
Sounds like fun! I'm in for the progress. And I like the name of the truck haha
---
2006 Chevy 2500HD 4x4 - MBRP Downpipe, 5" Magnaflow Exhaust w/muffler, 20x10 (-12) Fuel Mavericks with 305/55's
MY LBZ Build
In on it.

Mine is named ODOT from the guys at work.

I named it old girl. Lol

Or white lightning depending how fast I pass you.
Looks good man, to bad you can't pull the lift off the LB7. It may be damaged though.
---
Justin O.
04.5 Silverado 2500hd ECLB LLY 192k and counting

Mods: 5" MBRP Straight Pipe, Leveled Tow Mirrors, EGR Blocked, Magnaflow Downpipe, CTS2 w/ EGT probe, S&B Mouthpiece, PCV Reroute, KYB Monomax, PPEI EFI, Fass 150 Lift Pump, Kryptonite Tie Rods, Cognito PISK, 20x10 -19 Gear Big Block 726mb, 305/50r20 Toyo Proxes S/T, Tbar bolts removed, Drop Shackles.

Future Mods:EGR Delete, Built Trans, Load Level Bags.
Quote:
Looks good man, to bad you can't pull the lift off the LB7. It may be damaged though.
Its def damaged...
Quote:
In on it.

Mine is named ODOT from the guys at work.

I named it old girl. Lol

Or white lightning depending how fast I pass you.
ODOT? Ohio Department of Transportation?
Quote:
ODOT? Ohio Department of Transportation?
Exactly.
All white. No lettering. Crew cab long bed
So, got the boring part taken care of. Went and got it smogged, weighed (7,340lbs with almost no fuel in it), then brought it down to DMV so they could check the VIN and so I could pay all my taxes and fees on it; my wallet is $2,500 lighter now.
Stopped by the dmax store on my lunch break, chatted with the guys over there about the new truck, made an appointment to have them install a Cognito 4-6" lift on it, so Feb 1 I will be sitting level and have some ground clearance. Planning on going with the standard kit now, and depending on how much I drag the torsion bars will upgrade to a NTBD later ($500 from Cognito).
Tomorrow will head to the tow yard that hauled my old truck from the crash and pick up all my crap from them, including my 1 piece driveshaft, Fox 2.0 shocks, toolchest, old GN hitch and lift pump... Need to get the bed Line-X'd then will mount my tool chest in it. Depending on what the weather does (and how much I drink on New Years Eve) might try and get the lift pump in it at some point this weekend or Monday since I have it off.
DuramaxForum Veteran
Join Date: May 2011
Location: Kamas, Utah
Posts: 1,095
Truck looks great! You'll like the Cognito.
---
2k15i CC/SB GMC
Old:
2k13 CC/SB Chevy
2k2 CC/SB Chevy
2k4.5 CC/SB GMC:cry
2k7 CC/SB GMC:cry