Lyle's 15.5 Denali
---
Well guys, I traded my truck in on this 15.5 white Denali today....has 35k miles on it so it is slightly used.....got a deal on it I couldn't pass up.....anyways, I don't even know the plans for the truck yet, other than drive it and enjoy the new interior and body style....my dad bought a 16 dually Denali about 3 weeks ago as well....so two new Denali's in the family...brother has a 1500 new Denali with a 6.2 but haven't converted him yet to the Duramax side....I don't have many pics yet but here are a few...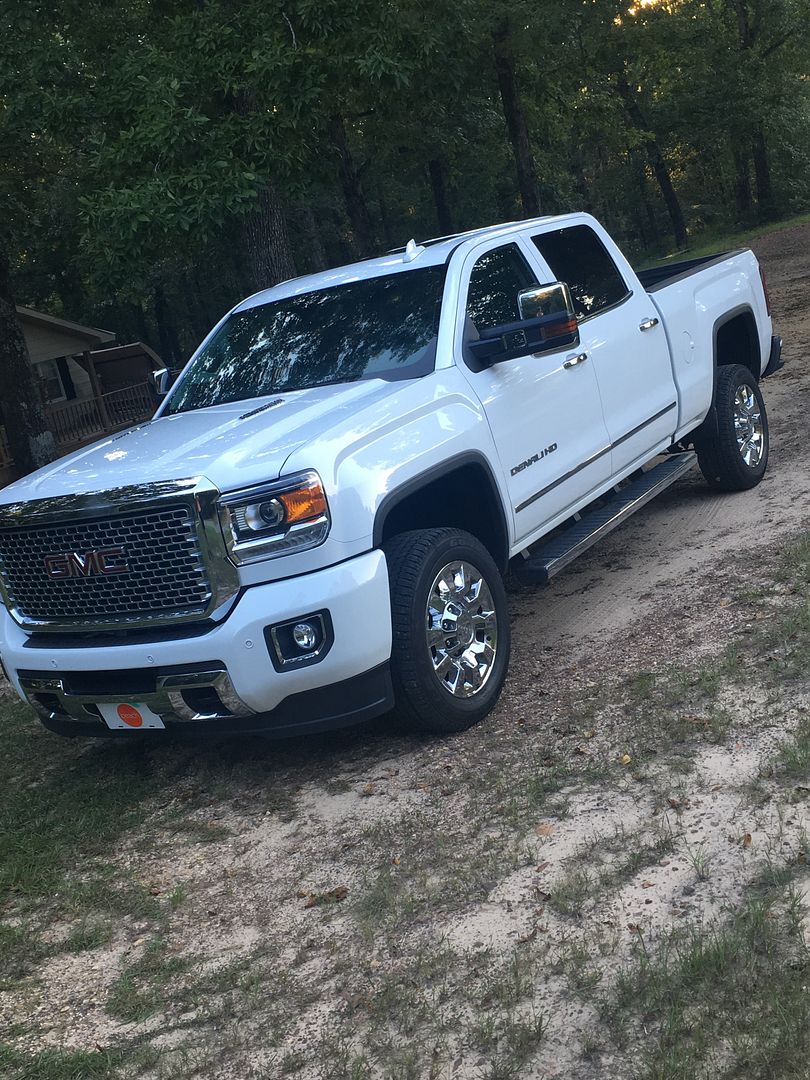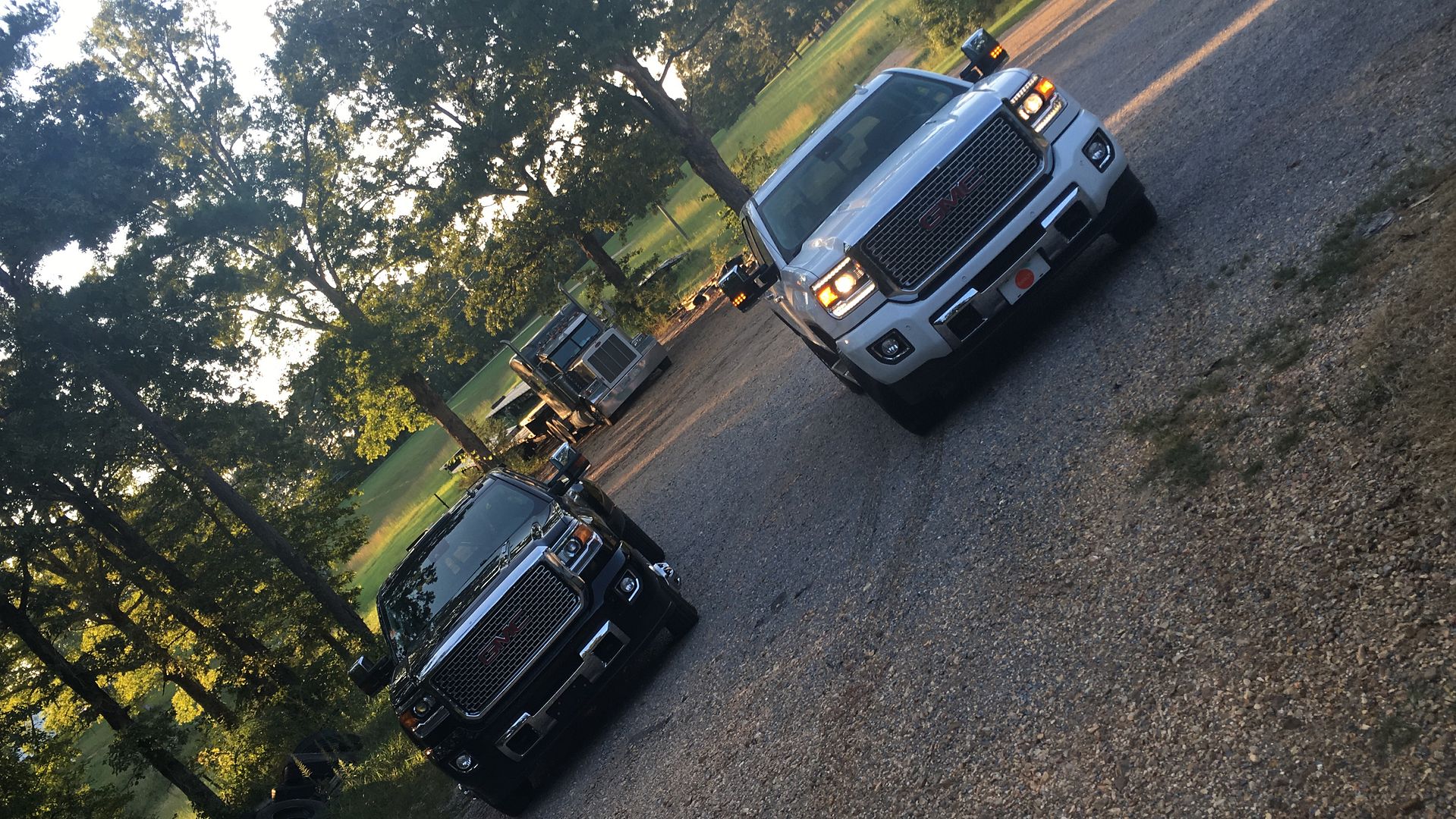 ---
2015.5 White Denali CCSB Deleted with EZ Lynk and 35's
Finally got me a diesel.... My LMM Build Thread
Lyle Atkinson
205-412-1344 Call or Text Anytime
www.Bamaoffroad.com
How soon til it's deleted?
---
2015 CC/LB DRW 3500HD LML LTZ Blk/Blk #284 Stock for now ~ on the hunt for 19.5s.
2012 CC/SB 2500HD LML LTZ Blk/Blk PPEI tuned & deleted ~Traded~


DuramaxForum Guru
Join Date: Jul 2012
Location: Where Loggers do it better in the Woods. PNW Son!
Posts: 12,515
Subd, da, da, dub da!
---
2006 Victory Red CCLB LT3 LBZ
Tunes by Aaron Wiebe
SDP Fully Built Trans w/ Billet Goerend G Converter by Scott Helpenstell
S472 SX-E.87/1.0ar
Stock Sticks
Special thanks to Screaming DieselPerformance, Scott and Crew
AaronWiebe, All In Truck Performance
MBS Diesel, Justin Goode
BAMA Offroad, Lyle & Clay
DMAXStore, Jason & crew
Duramax Lifetime Supporter
Join Date: Apr 2014
Location: Millersburg, OH
Posts: 4,810
Yep, your gonna love it! Now get to moddin'...
---
--2015 GMC 3500 SRW/CCLB--
Engine rebuilt @ 170,000 miles due to hole in cylinder #7
First start on 5/13/16
255k miles on 4/1/17, and goin' strong...
S&B Intake, 3" MBRP downpipe, Flo-Pro 5" downpipe back exhaust/no muffler, PPEI tuned no longer, MOONSHINE tuned by Tony @ RidgeRunner, Airdog lift pump...
Monitoring via CTS2
Engine
Fingers Oval Bowl pistons @ 17.5:1 .040 over
Carrillo rods
chromoly pushrods
SoCal Girdle
ATI Super-Damper
ARP main and head studs
Keyed crank and cam
SDP CP3 coversion w/ Sportsman pump
Suspension
305/55/20 MT Baja ATZ P3s on stock 20's...
Kryptonite tie rods/centerlink
BUILD THREAD
DuramaxForum Veteran
Join Date: Feb 2015
Location: Alabama
Posts: 1,499
Sub'd


I would wrap the front clip to prevent rock chips unless of course you plan on changing it to a hammerhead bumper like the last truck
---
"Speak softly and carry a big stick."-Theodore Roosevelt
Hey somebody tell Lyle the secrets out! Good looking truck man.
---
Adam

2008 GMC RCLB 6.0/6l90e stock for now
Gone
2006 Chevy CCSB
Moonshine, Trans, Supporting mods
2005 Chevy RCLB
Ppe hot race,leveled, 35x12.50s on h2s
Looks great.
---
Justin O.
04.5 Silverado 2500hd ECLB LLY 192k and counting

Mods: 5" MBRP Straight Pipe, Leveled Tow Mirrors, EGR Blocked, Magnaflow Downpipe, CTS2 w/ EGT probe, S&B Mouthpiece, PCV Reroute, KYB Monomax, PPEI EFI, Fass 150 Lift Pump, Kryptonite Tie Rods, Cognito PISK, 20x10 -19 Gear Big Block 726mb, 305/50r20 Toyo Proxes S/T, Tbar bolts removed, Drop Shackles.

Future Mods:EGR Delete, Built Trans, Load Level Bags.
Duramax Lifetime Supporter
Join Date: Oct 2015
Location: Alaska
Posts: 73
sub'd
---
2015.5 Silverado High Country 2500HD
PPEI autocal
PPEI TCM tuning
MBRP down pipe
5" down pipe back Flo~Pro exhaust
DRP EGR delete kit / DRP up pipe
DRP PCV reroute / resonator delete
Fass Titanium series LP 150gph
Fass fuel filter delete
Beans sump
SOLD
-2012 Silverado LTZ Z71 appearance package
my build thread