FASS Giveaway
---
Enter to Win the FASS Christmas Giveaway!
>>Over a $1,200 Value!!<<
How to Enter:
Call FASS Fuel Systems @ (866) 769-3747 OR (636) 433-5410 (EXT 1 or 2 when prompted) and Purchase ANY FASS T-Shirt to be entered into the Christmas Giveaway Drawing!
>>Buy (1) FASS T-Shirt = Get 1 Entry!
>>Buy (2) FASS T-Shirts = Get 3 Entries!
>>Buy (3) or More FASS T-Shirts = Get 5 Entries!!
FASS Christmas Giveaway Details:
Giveaway starts 11/19/13 and ends at 5pm Central time 12/26/13. The winner will be chosen 12/27/13 and contacted directly. We will also announce the winner on Facebook and Twitter!
List of Items Included in the Giveaway:
(1) Titanium Series FASS (up to 150 gph) - $684.00 VALUE!
(1) FASS Complete Sump Kit - $249.00 VALUE!
(1) FASS Electric Heater Kit - $149.00 VALUE!
(1) Extra SET of Titanium Filters - $57.00 VALUE!
(2) FASS Decals (17" x 5.5")- $36.00 VALUE
(1) FASS Hat - $22.00 VALUE
(1) FASS T-Shirt - $18.00
TOTAL VALUE OF $1,215.00!
Click the link below to view current T-Shirt Styles and Colors! Men's Sizes (S-4XL) & Women's Sizes (S-2XL) Available!
Fass - Fuel Air Separation System
[IMG]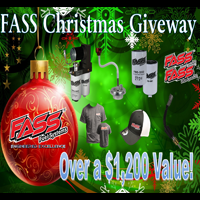 [/IMG]
cant just order online?
---
2005 2500 CCSB lly. 6" rcx lift. 20" moto metals. blacked out. black chrome silverline stack 8". egr blocked. s&b cold air pcv reroute. afe mouthpeice. rare parts tie rods. cognito kit. efi live by ROB.
You can email it on over to us but the website is not set up for online orders on T-shirts.
got mine on order
---
2001 GMC 3500 4x4 DRW -2003 GMC front end swap, 4" mbrp muffler delete, S&B intake. rebuilt t-case with pump rub kit. Projection hid headlights, led clearance lights, led tail lights, led 3rd brake light, 2 10" shallow mount subs, 1000 watt kicker amp, 4 6.5" kickers.
Awaiting install- Stage 7 Platinum UCA Leveling Kit, zinc plated bilstein shocks, sulastic rubber shackles.
efi live v2 from Idaho Rob, edge insight cts with probe, fass 150 ti, intake horn, Firestone Ride-Rite Air Bags, Eagle Alloy 056 19.5 wheels
Great vendors-
www.atptrucks.com
-
www.alligatorperformance.com
Very cool.
---
2013 Silverado 1500
275/60R20 AXTs, 2" level, UnderCover Flex, BedRug, WeatherTechs

2015 GMC Yukon XL SLT - SOLD
Husky Liners throughout, HID lows, LED fogs

2011 Duramax LML - SOLD
LTZ, Z71 pkg, VYU pkg, CCSB
AMSOIL in the diffs • Edge Insight CTS • FASS 150 • FLO~PRO 5" exhaust • H&S Performance • LINE-X bedliner • Mobil 1 5w-40 syn • PPE Diff Cover • Rough Country steering stabilizer • TranSynd • Trifold Tonneau Cover