Junior Member
Join Date: Dec 2011
Location: Animas, New Mexico
Posts: 90
Here's Mine
[IMG]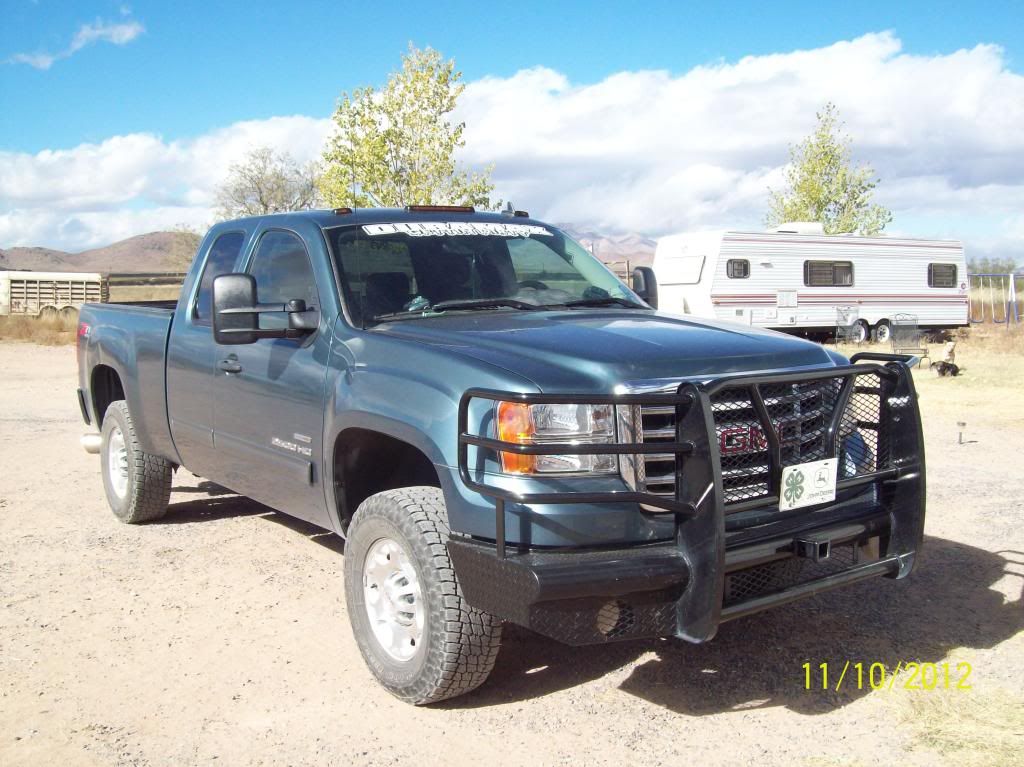 [/IMG]
Dam!! Bill81vette i want that color.
---
2007.5 GMC Sierra 2500HD Duramax
Exterior:
Blacked Out, Cattlemans HD Replacement Bumper, B&W Gooseneck Hitch, HIDS- 6k Hi's 5k Lo's & Fogs, Bushwhacker Pocket Flares.
Performance:
EFI Live W/ DSP5 Switch 4" Diamond Eye Turbo Back Exhaust
Suspension:
6" Zone Lift
Tires:
35x12.50R17 Hankook Dynapro MT's
---
CHAD : 2002 CHEVROLET 2500HD ec/sb 4x4: Has enough to help me do the speed limit
30% exergy,s366,alligator stage 5, Idaho rob, arp studs, 6" tuff country 35x12.50 nitto trail grapplers, 17x9 xd spies all work done at home
Building a gas engine and need a dry sump oil system?check out A.R.E drysump.com
gold star of excellence award winner 2011
Quote:
5" = deeper sound. 4" = more of that pissed off two owls havin angry sex dmax sound at WOT.
a proud owner of a pound seven
Join Date: May 2012
Location: Dawson Creek, BC
Posts: 4
Heres mine.
Sent from my iPhone using
AutoGuide.com App
---
Logan Faehr
07 LMM LTZ|ATP|ADII|5" mbrp|3" downpipe|PCV reroute|S&B intake|All season brace|MA sleeves|Recon|Cognito keys|Bilsteins|20x12s|Toyo MTs| Big Dipper tranny soon to come
Quote:
Originally Posted by
Duramaxdiesel23
View Post
Dam!! Bill81vette i want that color.
deep ruby metallic new for 2013!!!!
that's why I bought it!!!!!
Junior Member
Join Date: Jul 2012
Location: Buckhannon, WV
Posts: 26
[IMG]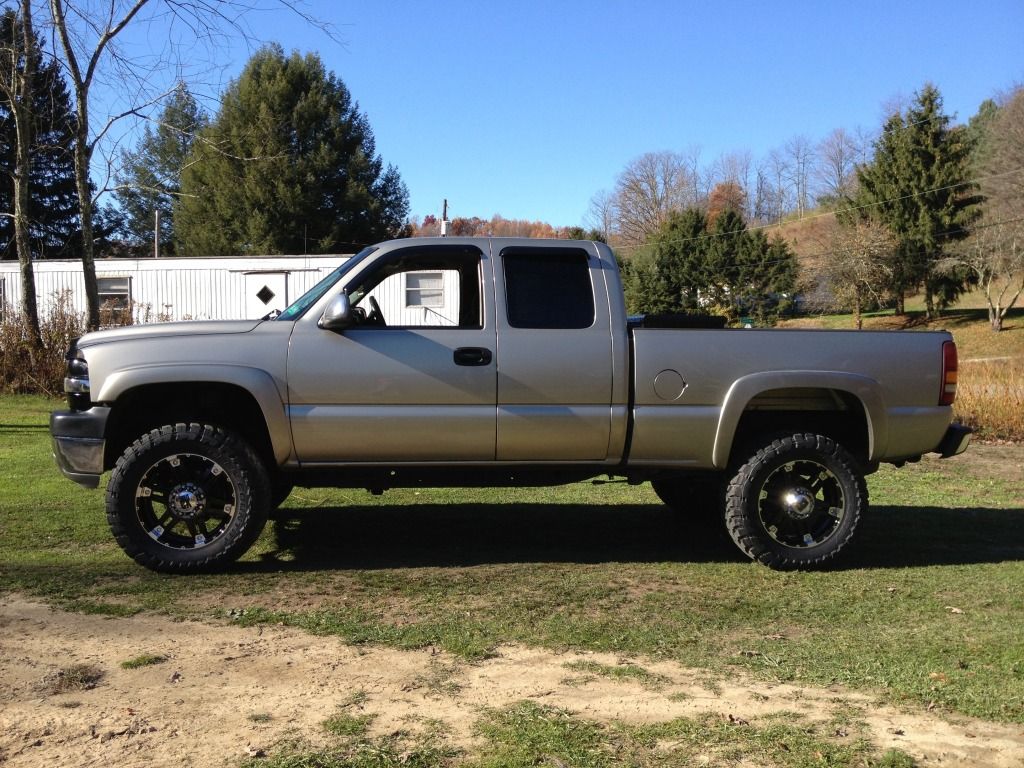 [IMG]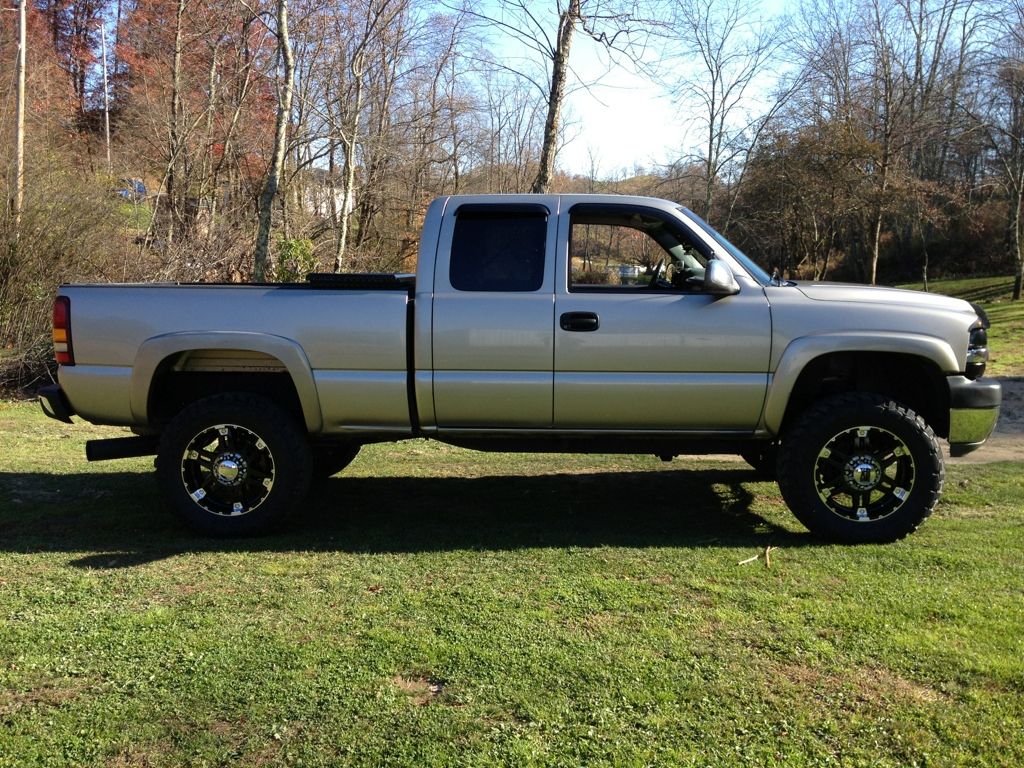 [/IMG]
---
01 silverado 2500HD LB7 ec/sb
5" straight pipe,
modded stock airbox.
Edge juice with attitude.
2" Zone lift kit and 35x12.50-20 toyo mt's
Things to come soon.
Batmowheel and intake, turbo inlet, EFI Live.
Sent from my DROID X2 using AutoGuide.Com Free App
---
07 2500hd lbz classic\6in. rough country, 20in bmf nova's wrapped with 35 M/T baja atz's\ efi live/dsp5 by rob ,dp 72mm vgt,tow flow uppipes, lml manifold,edge insight,bt lockup box, ad2 165, big dipper trans,40 over nozzles, cognito supports, tie rods, and uca's, 5 .in turbo back mbrp,afe stage 2 intake, dts intercooler,cal trac T-bars. The Diesel Crew Co-Founder.
---
2005 LLY
5" MBRP Turbo Back (no cat)
Diamond Eye downpipe
Sinister EGR delete
Predator on 65 HP setting
7" BDS Lift
315/75/16 Goodyear Dura Tracs
16" KMC XD Hoss
LBZ Turbo Mouthpiece
Hers mine!
---
2008 Chevy duramax, 4in cat back duals, 3in down pipe,dpf delete, 305/50/20 nitto terra ,EFI live by Idaho Rob, Trans go jr., Edge cts, Tuff Country Traction Bars, SDP EGR Delete kit, DHD 600-510 Steering Stabilizer Bracket, PCV Reroute, Power max stage one turbo, and air dog.
www.atp.com
www.performancetruckproducts.com
---
Last edited by bruzer238; 11-14-2012 at

12:44 PM

. Reason: Bad pic