Join Date: Feb 2012
Posts: 7
No more D-max :(
---
Well as of yesterday I went from a very happy GMC duramax owner to very sad former dmax owner. I got my Sierra a little over 2 months ago after trading my 98 12v cummins for it. When i traded I have been more than happy considering this was exactly the truck i have wanted since i was 16 years old, now being 22 years old. I finished playing around and getting everything the way i wanted it as far as performance wise.
Details about my truck were 2003 Lbz block with lb7 heads, had .95 thick headgaskets and arp 625+ head studs, II 15% over injectors, EFI live dsp5, danville performance ihi turbo, danville ported horn, s&b intake, profab downpipe, 5inch exhaust dump under cab, mbrp hot pipe, autometer gauge pod, fass platinum lift pump, bd power built trans, with 4" lift with 18" rbp wheels on 36's.
This is what my truck looked like when i was going to look about trading.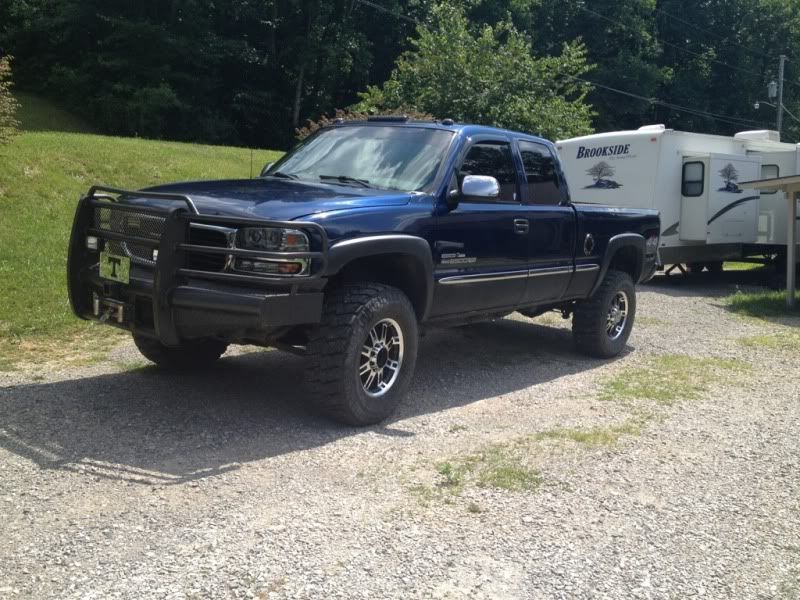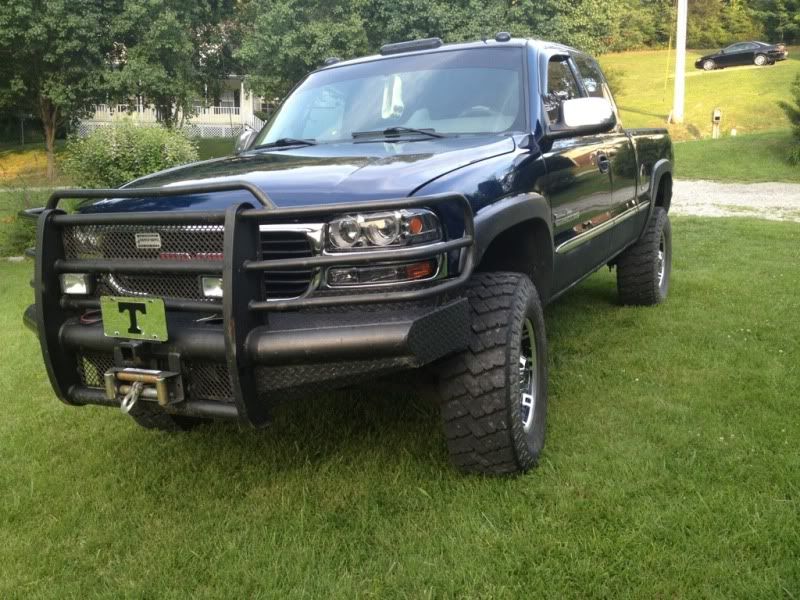 Then after getting it and bringing it back home and finally getting it cleaned up, parked next to my buddies 99 7.3 powderstroker.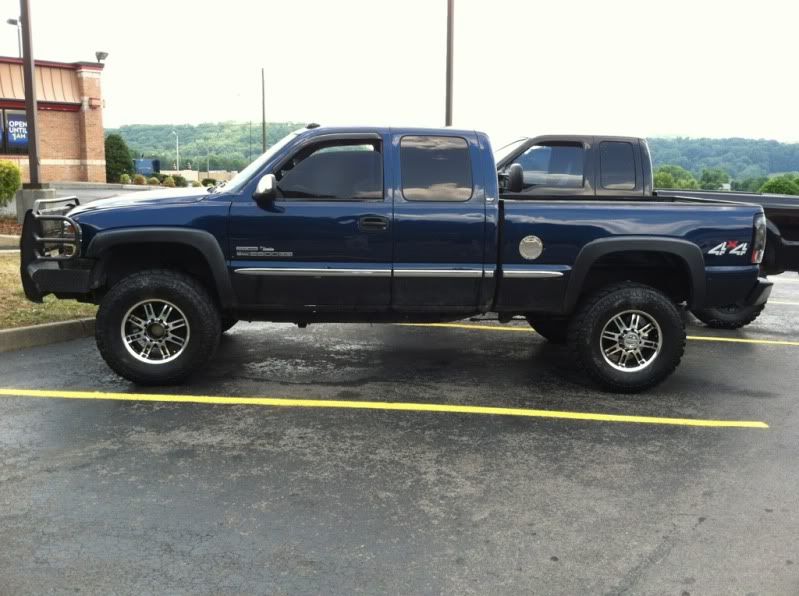 Then i decided i wasnt to fond of the full ranch hand bumper so i done some trading around and got some boot and got a stock gmc bumper.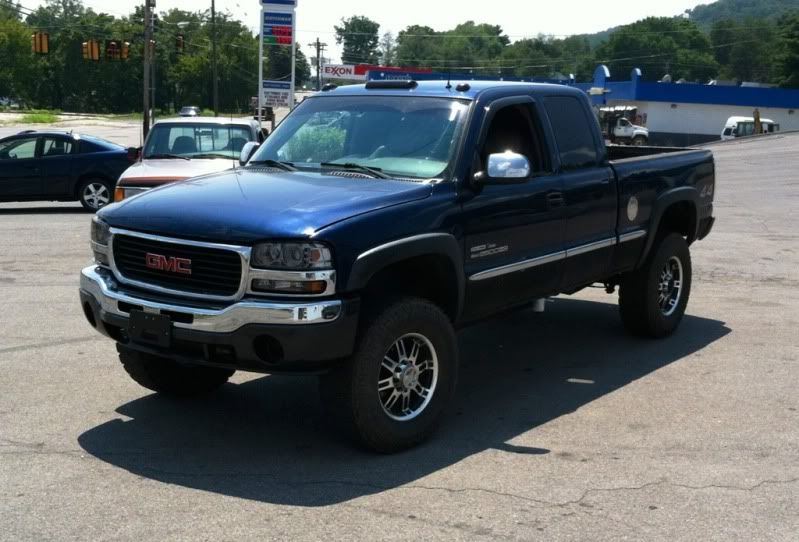 At this point I was completely happy, i decided after going to school to get thing set up for this semester i stopped by local cat dealer and got two filters so i could go ahead and change filters so i could start having better filtrations. So upon returning home i changed filters and then went to meet my buddy to help put new headlights in his 12v dodge. Then it all happened when going through a intersection i got hit on passenger side which knocked my truck into another car causing my truck flip and tumble until finally coming to a rest about 50 ft back.
Pictures on the scene of the accident that people have sent me.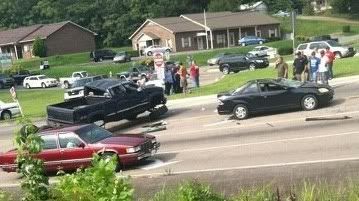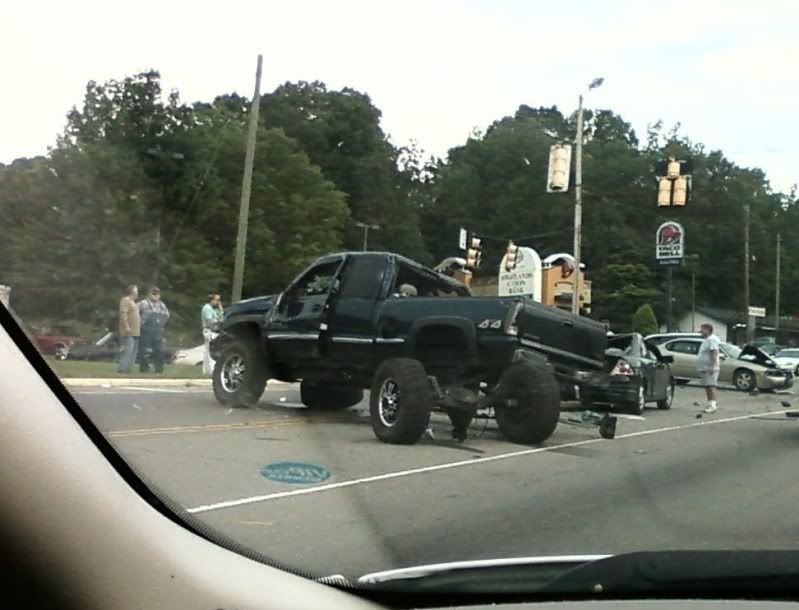 Here are the pictures from the lot where they towed it when i went to get my stuff out.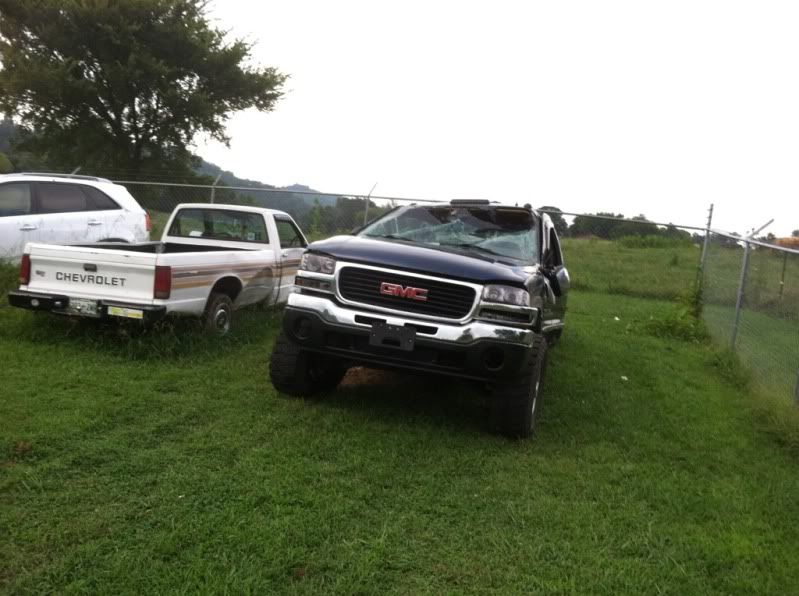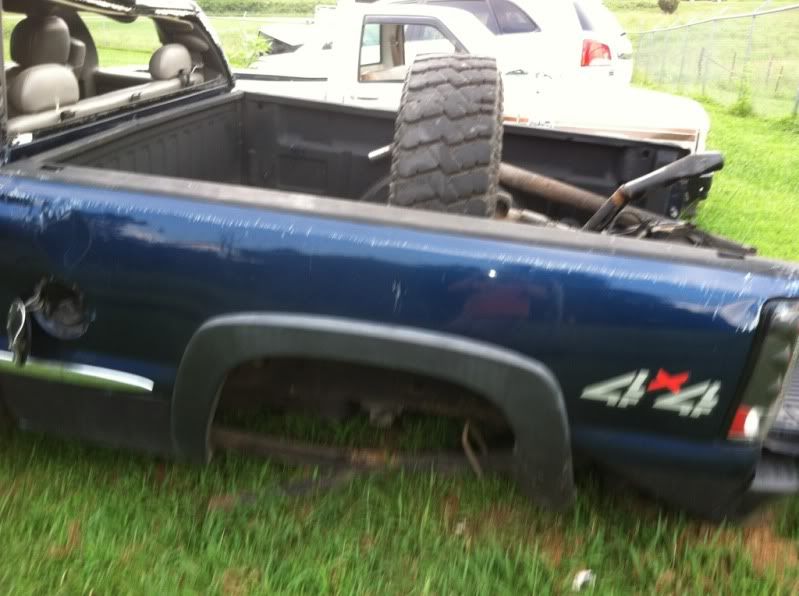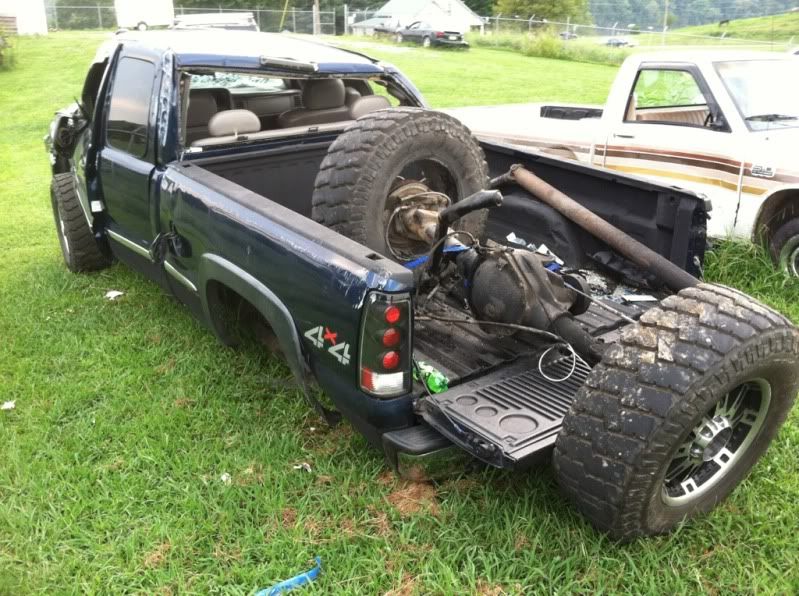 Good news is that all 3 parties involved in the wreck by the grace of an all mighty God were able to walk away from the crash, not only did everyone walk away safely everyone walked away with out even have any scratches. From the photos and seeing it on scene you just know someone was either dead or extremely bad condition, but thanks to the grace of God there wasn't even one drop of blood shed. Just though i would post this so people could hear my story of my eye opener alone with a true sign that God is still with us today no matter what. Hopefully my story can make a change to someone who thinks that this cannot happen to them, cause believe me a day that started just as any normal talking to a few friends before doing normal runs can change all of a sudden and those words shared between friends could be your last.
All I can say is.. Damn.. Glad to see you were all okay. Vehicles are replaceable people are not. So was the person that hit you first at fault?


Sent from my Autoguide iPhone app
---
Kyle
13 lml stock
sold 04.5 lly
Wow
---
Tony
Non Vendor contact information, URLs and/or links are NOT allowed in signatures OR on forum!
My opinion is not the opinion of Duramax Forum, Auto Forums, Auto Guide, or other Duramax Forum staff members!
CLICK TO READ: FORUM RULES OR DF STAFF!


17 GMC Sierra CCSB z71 SLE L5P (Work Truck)
Old Trucks: 3 - LLY, 1 - LMM
Glad your okay but Sad to see your pride and joy wrecked. hopefully you'll find another just like it!
---
2013 GMC CCSB Silver LML
PPEI EFI Live & Trans Tuning, Fass 150, Wherli Cp3k conversion, Fass Fuel Filter Delete,
5" Mbrp to 7" axle dump, S&B Intake, Wherli Y-Bridge Kit, Autometer Cobalts Gauges, Kryptonite Sleeves, Cognito PISK & UCA's , 20x10's w/ 33x12.5 Nitto Trail Mt's & Large fender mod, Debadged & Demolded, Bilstein shocks, Colormatched Mirrors & Handles
Holy shiznit, glad to hear everyone made it out ok. Sorry about the truck
---
Mike

LBZ|6"|Toyo MT|Fuel Mavericks
Custom Pearl Paint
S&B CAI|5" MBRP Exhaust|BD Power Pup|PPE Shim Kit|Profab EGR Delete|Profab DP|LML Manifold|PCV Re-route|Cobalt Boost & Pyro
Bilstein 5100 & Stabilizer|Krypto Tie Rods|Moog Pitman|Idler Arms|Krypto UCA
Mag Hytec Diff Cover
Glad everyone is ok bro, damn!

sent from my droid bionic while driving through your yard smashing your little kittens.
---
Greg
2011 Chevy LML. No DEF for me.
I got tint and tires but i'm not telling what % or what size......
Quote:
I take turbo dumps when I eat lots of chili. Sometimes they are loud.
See Will @ Troll Performance
Thanks to Willie at
Synthetic motorsports
Glad your ok, I dont think it will buff out.
---
2010 CCSB 2500 LMM LTZ
Relentless Diesel Performance Custom tunned
5" FLO PRO, EGR blocked, PCV re-route
4" tuff country lift
295 70/18 Toyo AT2
Method NV 18x9


Glad you are ok sorry about your truck

Sent from my DROID RAZR
---
Donnie
08 GMC Sierra 2500HD cc/sb Debadged 5in straight pipe MPI twins 60% Big Dipper nozzels EFI live tuned by Rob at ATP PVC reroute Bank 3in IC pipe PPE Race Vavle & Ported Fuel Rail Fitting CP3 High Flow Feed Line Kit Raptor 150 lift pump built trans by Big Dipper EGR delete with 3in Y-bridge BD manifold Tinted tail lights & 3rd brake light Recon smoked LED cab lights LED tailgate bar Big Rig amber running lights 8K hids lows & driving Fuel Hostage rims Nitto 420's 305/50/20 3in drop shackles traction bars PPE straight centerlink Rareparts tierods Rancho steering stablizer and shocks line X Bed liner billet fuel door
http://www.atptrucks.com/
Thank GOD. Miracle everyone walked away. But I agree. With s little wax and a good buffer that will come out lol
---
DUSTIN...04 LLY DMAX
EFI LIVE DSP 5 BY IDAHOROB
http://www.atptrucks.com/
Danville 66mm stg2
GMax5 + ML Built by me
airdog II,AFE MP+Intercooler tubes
http://www.meyerperformance.com/
7" Cognito Lift XD Monsters and 35"s,7" FTE Single stack, Tracton Bars, all the front end goodies, egr blocked, FRSK, 06 grill/ hood/mirrors, sunroof, 50g transfer flow tank and many more
1983 chevy 12valve cummins, nv4500,and some other stuff
Let men marry men and women marry woman...in 3 more generations there will be no more democrats
glad to here no one was hurt
---
2015 Gmc slt loaded, cognito ucas, keys bilstein 5100s,nitto dura grapplers 275-60-20,sonoma red metalic,coca dune leather, gm tri fold toneau cover,factory spray in liner,zone steering stabilizer
1969 ss nova back halved 604 ci big chief, rossler 400,8.42 on motor