How To: Stepper Motors Repair / Replace
---
I just switched out the stepper motors in my 03 and thought i would share how to complete the project. on ebay you can order the stepper motors and for all of them (7) was 46.00 shipped to me.
first unhook both batteries!!!! remove the instrument cluster and take the plastic lens off. next move all of the needles counter clockwise until they stop. take a piece of masking tape and tape it on the backing board and mark where the needles are.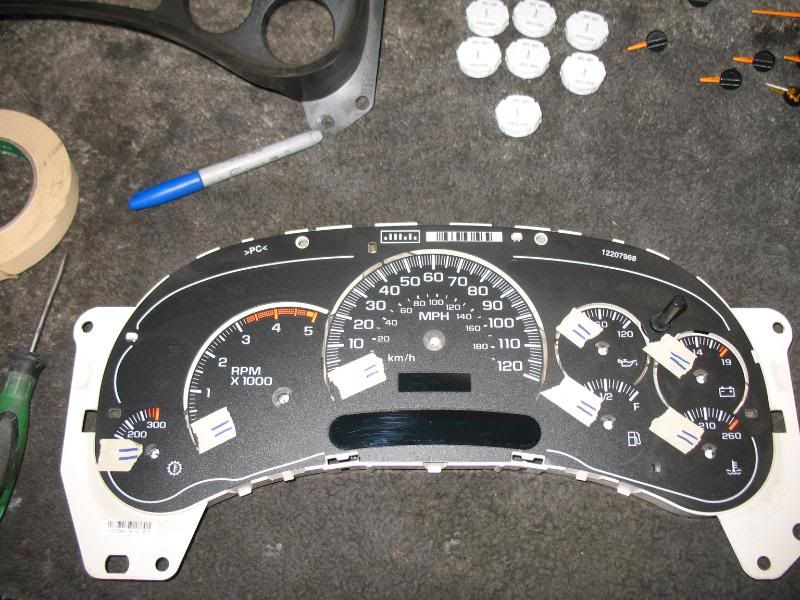 next remove the needles by twisting them counterclockwise and pulling up until they come off.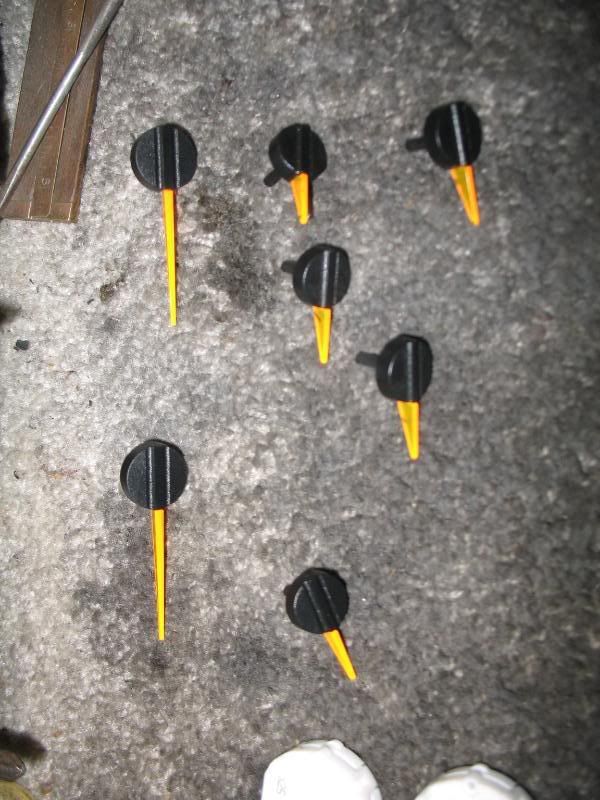 now remove the back of the cluster (plastic) until you see the circuit board. unsolder the 4 pins and remove the old stepper motor. re solder the new stepper motor in. (they can only go in one way cause of the tab that goes through the board)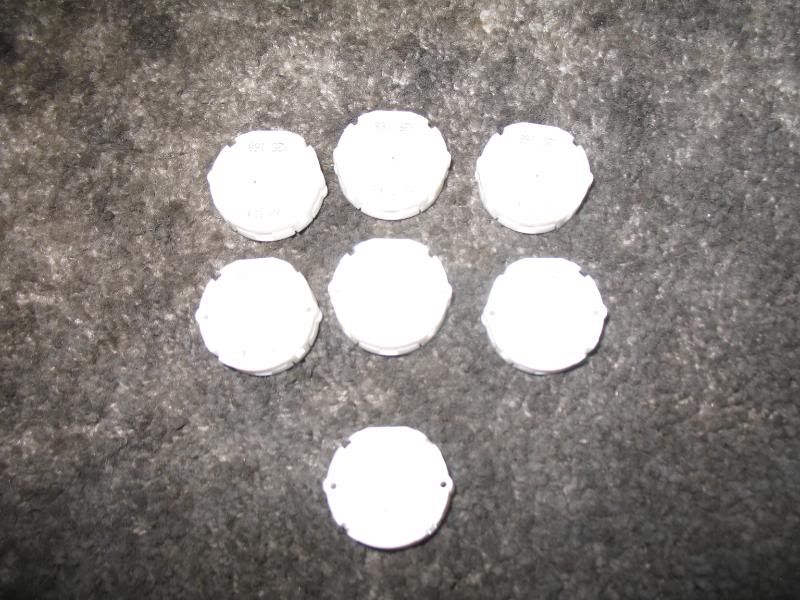 once those are all soldered in put the needles back on the gauges and turn them so that they read in the same spot that you have marked with tape and a marker.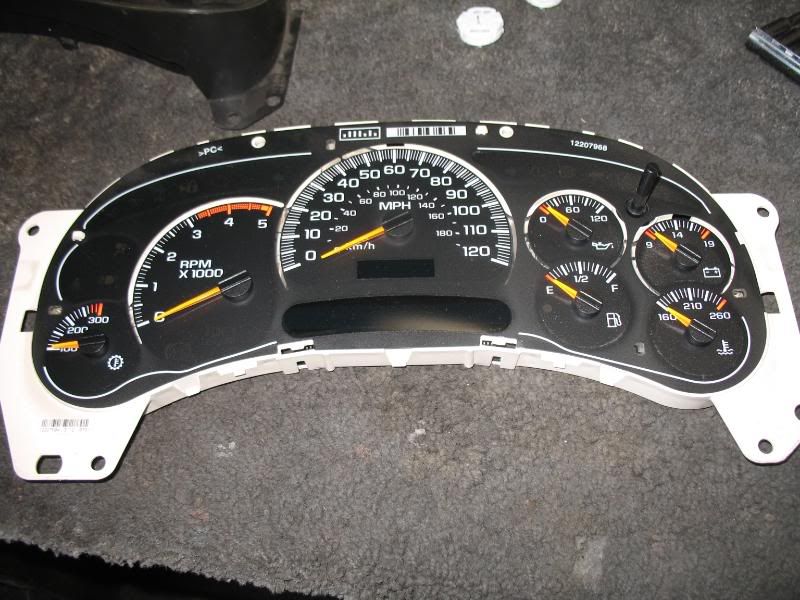 pull the tape off and put together the cluster and put it back in your vehicle. I tried to upload pictures of all of this in steps but it kept telling me there was an error... good luck to you all!
---
IDAHO ROB FOR PRESIDENT!!!!


LBZ in a 91 silverado!
caging and linking now to be a chase truck
---
Last edited by infinityfabworks; 10-20-2009 at

03:28 PM

. Reason: adding pictures
Cool write-up..you can upload the pictures to photobucket or similar. Use the IMG code and it will show your pictures here. Your photos were probably too big to upload on the site.
---
2016 GMC Sierra 2500HD Denali
Extang Blackmax Tonneau
Weathertech floor mats and mud flaps
X-pel clear bra
295/60-20 Toyo Open Country A/T II

SOLD 2004 GMC Sierra LB7
aha thanks! got the pictures uploaded
---
IDAHO ROB FOR PRESIDENT!!!!


LBZ in a 91 silverado!
caging and linking now to be a chase truck
Your awesome!
---
07' Yamaha yfz450
11' Harley Street Glide
04.5 LLY zf-6.rc/lb
Great Post...
---
2005 HD2500 Silverado 2WD EC LB (FE9 - Federal Emissions) 115K miles Goodyear Wranglers 265/70R/17,
LBZ mouthpiece upgrade, BD Exhaust, MBRP DP, Banks Ram-Air with SuperScoop ,4" SS Corsa Exhaust System w/gutted kitty, Amsoil Dual Oil Bypass Filtration, Aux Radiator (Engineer 837) installed, Firestone Air Bags, Allison extra capacity Tranny pan, MagHytec Rear Diff Cover, Synthetic Fluids ...Mike L tranny cooler) 2008 Towing Mirrors with Leveling MOD, PCV reroute, Fumoto Valve, Mad Jacks fuel fiter access door. Running 2% BioDiesel with Optilube XPD,TTS dual lift pumps with Nictane Aux Fuel Filtration. EFI (Tuned ECM from Duramaxtuner) Edge Insight CTS to control the tunes
And the best part of all, no payments and title in hand
my guages get stuck sometimes would that be the stepper motors also? mostly my rpms sometimes my speedo... pretty cool to go 100mph and only at 200 rpms haha.
---
JAKE
518 HP 10-1-11
04' LB7 CCLB-EFI-HIDS-PPE IV-INSIGHT-ADII
WANTS:
Cab Lights, back bone rack, much much more...
thats purtty cool man
---
Tyler- 2001 LB7
Mods:EFI Live, GA Diesel Stg. 4, Garmon Custom Converter, AirDog II, EPR s464, EPR 5" intake, EPR 3" IC tube, EPR 3.5" Downpipe, RDL pedestal, Turbo Performace blanket, MBRP 4" exhaust, Silverline 6" Black Stainless stack, Autometer Cobalt boost/pyro, Modified 6" Fabtech, Fabtech traction bars, PPE sleeves, Cognito braces, Rancho shocks, 35" Mickey Thompson ATZ, 20" ProComp Extreme
472/941-Stock Charger
Thanks Harley, Phil @ Georgia Diesel, Trent Nell @ Extreme Prejudice Racing, Jason @ 4 Wheel Parts, Levi @ Turbo Performance Products
Georgia Diesel
706-356-2174
Great write up and was easy to follow.

My MPH gauge was shot and the dealer turned me away as far as warranty goes.
I ordered all seven gauges but only ended up replacing the Speedo.
The Gauges were only like $32 shipped so no biggy. While I had the gauge assembly apart I also installed the $28 white face gauge kit commonly found on eBay.

The gauge cluster removed so easily that I'll just replace the motors as they go bad.
Total time to remove the cluster, remove all needles and install the motor and white face plates, about 1.5 hrs.
To remove the cluster and replace any one motor and reinstall, probably about an hour (with set up etc)

Make sure you have a SMALL soldering iron. One you can use on circuit boards. You can find one at Radio Shack for $15.

I love how the white faces look and thanks to the OP, I was able to gain the confidence to do this for pennies on the dollar as opposed to replacing the whole cluster assy at the dealer for $300+
---
~Christian
SoCalMoto.org
2004 LT 2500HD 4WD Crew Cab Long Bed
-Banks Powerpack System:
Exhaust, intake, waste gate, inter-cooler, ottomind tuner, tungsten II palm pilot
-Fabtech 6in. lift, Fabtech traction bars, Bilstein shocks, Air Lift air bags
-American Racing 17in. rims, BFG all terrain tires
-Amp Research side Steps
Performancetruckproducts.com
Thanks for the write up...sick of my speedo not working so i ordered the motors yesterday. This will definately speed up my process!
---
2005 GMC LLY CCSB
Debadged
Wade Tinted Window Vents
AFE Stage 2 CAI
AFE 4" Exhaust - Turbo Back AFE Mouthpiece - great mod for LLY
Bully Dog Power Pup with Outlook

www.alligatorperformance.com

"Husker Diesel - 402-502-6961"
Nice write up, thinking of doing this, my speedo is whacked, stuck at 80 as we speak. Got any pics of the back where you need to solder?
---
LLY-Stock for now