Quote:
hey man, when you leveled your truck (assuming its leveled) did you have alot of play in your steering? im running the Cognito UCA with aftermarket keys to the max with a stabilizer, and trail grapplers and im wondering if its the tires making my steering jump, thinking of going to terra grapplers
where you from? if you go to terras and close to Cali I'll buy em..
---
2006 CCSB LBZ -FPE Billet S472 w/HSP Kit, Studded, Plugged, Deleted, Levi's Blankets, 3" Drop Shackles, OLs removed, Braces, Kryptonite Front End, Electric Fans, Suncoast GMAX6, MA Trans Brace, Pump Rub, Transgo, MagHytec Pans, Magnaflow, Rigid, Alligator, PPEI Tunes, 305/50 Nitto 420s, 20x10 Fuel Couplers, Trac Bars by LWATSON

2004 RCLB ZF6 LLY -SOLD
Billet S472, Southbend DD
2004 CCSB LLY -SOLD
Quote:
Here is mine with 20x9 hoss' with -12 offset and 305 55 nittos
Dude loving the setup on your truck
---
Andrew
2006 Chevy LBZ ECSB
EFI Tunas by Kory | S&B CAI | Banks Technicooler | Magnaflow 5" | Magnaflow Downpipe| Phantom IIs & Edge CS | Blocked/Rerouted/Capped | Nictane w/CAT Filter | PPE Fuel Fittings | AirDogII | Cognito UCAs | Zone 2'' Lift w/ Rear Blocks | Bilstein 5100s | BMF Novakane 20s | Nitto Terra Grapplers | Recon Cab Markers & LED Tails | Smoked Headlights | Boss V-DXT 8'2" Stainless
Running 285/70/17 Cooper Zeons on stockers for winter
Quote:
hey nice truck zeke38 lol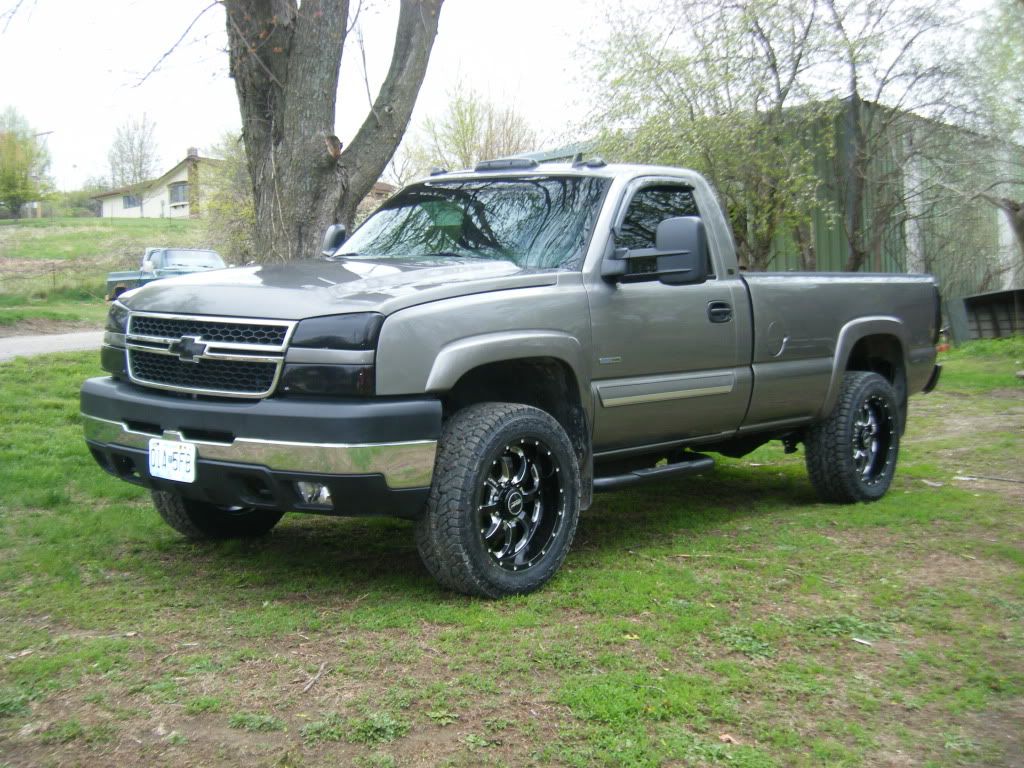 Thier twins! lol
Sent from my SPH-D700 using Tapatalk
---
2006 LBZ. ATS Stage 2 W/ Co-Pilot. EFI Live. 5" diamond eye. Keys. Tierod Sleeves. CenterLink. Gauges.
Junior Member
Join Date: Feb 2012
Posts: 43
---
Jake

2007 Chevy LBZ CCLB LT3- Stock

2006 Chevy LLY CCSB LT3- SOLD
Bump. This thread hasn't been active in a while. Want to see some more pics!
---
SOLD 2009 Chevy CCSB 2500HD 4x4

2012 Ford F-350 DRW
this truck leveled?
I really want to try a set of toyo mt's next... just wondering what I need to do to fit the 33" tires. Thanks!
---
2006 4x4 CC/SB LBZ ~ Diablo Predator ~ 4" Exhaust ~ Nicktane ~ TransGo Jr ~ 4" Tuff Country Strong Lift W/ Cognito UCA's
Leveled 20x10 Renegade 8, 33x12.50 Toyo MT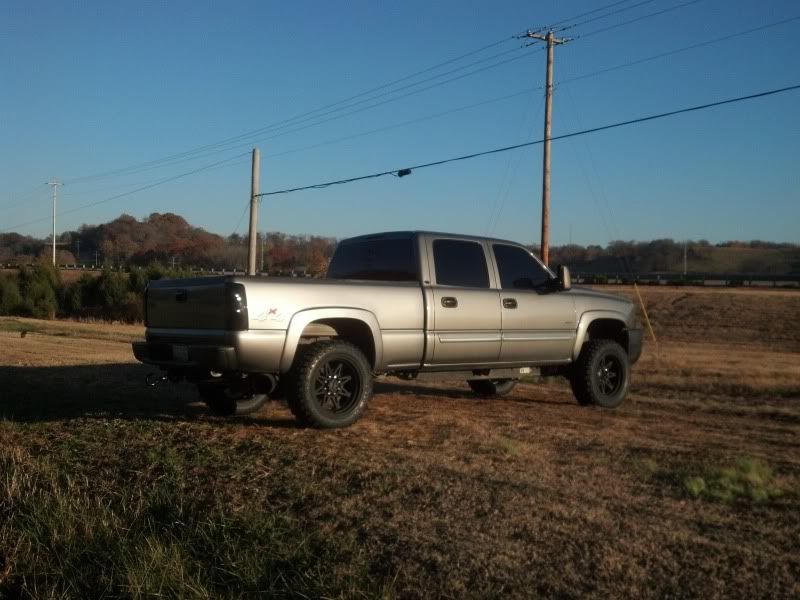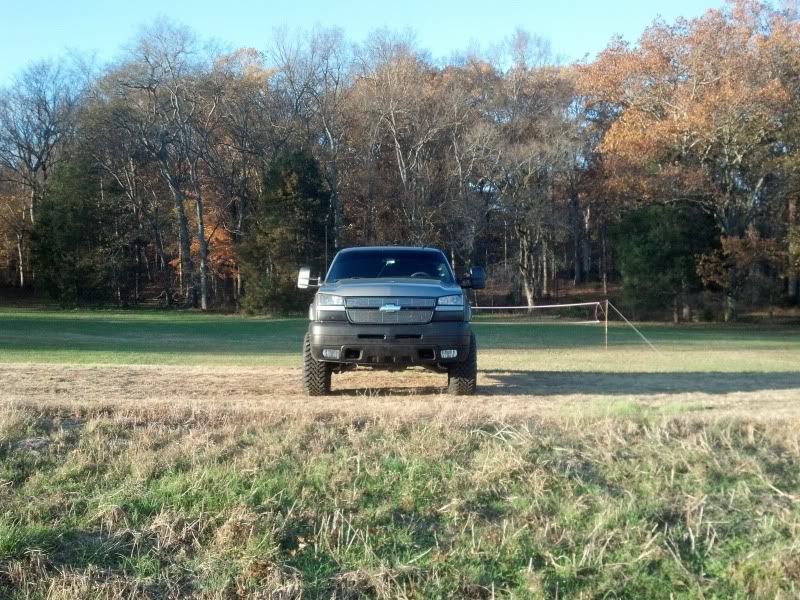 ---
2008 LMM CC/SB
PPEI EFI l REVMAX VALVE BODY l 5" MAGNAFLOW TO 7" STACK l MAGNAFLOW DP l SDP EGR DELETE l WELDED STOCK UP-PIPE l PCV RE-ROUTE l CTS l FASS 150 l BEANS SUMP l DELETED STOCK FILTER HEAD l BEANS TIE-ROD SLEEVES l STOCK KEYS LEVELED l LONGHORN TRACTION BARS l 20X10 -12 FUEL MAVERICK l 305/55R20 TOYO AT2

2006 LBZ CC/SB SOLD
Join Date: Nov 2012
Posts: 7
Quote:
this was my old set up...
Did you have to do much trimming with this setup? What is the offset of these wheels? Leveled and rear block?
Banned
Join Date: Jan 2010
Location: On the Coast of Somewhere Beautiful
Posts: 5,738