Leveled with 20's Pics
---
Hey, I would like to see some pictures of leveled trucks with 20 inch rims. Mostly looking to see what tire size I would like to go with.

Thanks,

Brian
---
SOLD 2009 Chevy CCSB 2500HD 4x4

2012 Ford F-350 DRW
Leveled with 20's
---
If could post a pic i would
---
Last edited by hightowerlbz; 12-21-2011 at

12:47 PM

. Reason: picture not working
DuramaxForum n00b
Join Date: Jan 2011
Location: Ft Worth
Posts: 15
[IMG]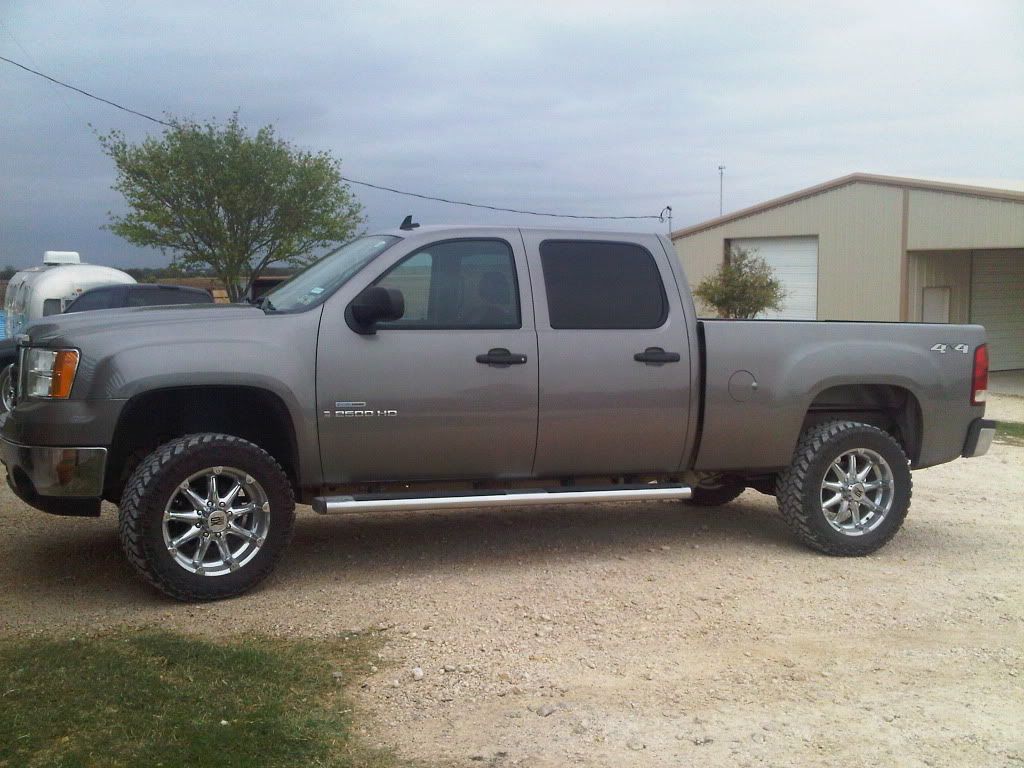 [/IMG]
---
Last edited by aaronb08; 12-21-2011 at

01:04 PM

. Reason: 1st time the pic didnt work or the 2nd time or the 3rd time holy santa claus **it how do you post pictures on here.
What brand and size tires are those?
---
SOLD 2009 Chevy CCSB 2500HD 4x4

2012 Ford F-350 DRW
DuramaxForum n00b
Join Date: Jan 2011
Location: Ft Worth
Posts: 15
they are the nitto terra grappler m/t 305/55/20. i just put keys in it and got it aligned i had to do some trimming though but just some plastic at the back of the front fender well. I love it though.
this was my old set up...
---
2007.5 GMC Sierra SLT 4x4/GMAX6/Precision converter/Fully DeletedEFI DSP5 (Nic's tunes, TCM tuning)/AirDog II 165/MBRP 5in PCV Reroute, EGR Blocked/ Diamondeye DP6 in Superlift dropped to 3.5, Fabtech Tie Rods Fabtech trac bar
This is what I have
---
James

06 LBZ CC SB 4x4 Graystone Metallic
EFI Live DSP5 by Rob
3in D/E Downpipe to 4in MBRP Turbo Back Straight Pipe
Leveled
B&W Turnover
LineX Bedliner
Got mine today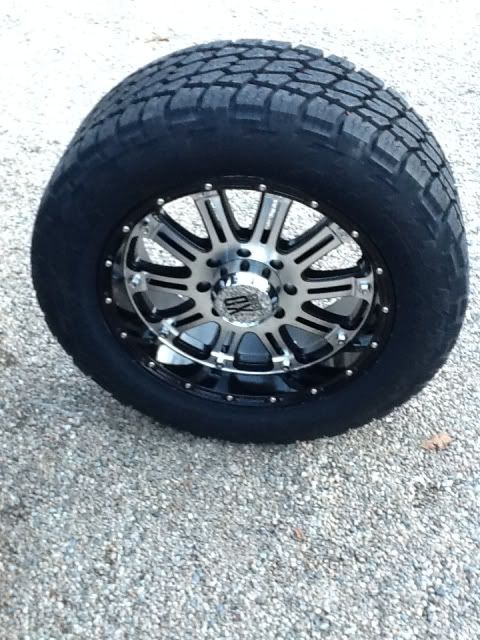 ---
09 GMC Quad cab DMAXX Windows tinted, in channel vent shades, PPE hot running on #2 leveled with bilstein shocks, 20" XDHoss rims SS Nfab steps?
5 inch Ss diamond eye exhaust
Looking for a sick set of 20s for my white ltz.. Thinkin BMFs but they are def proud of their wheels
Quote:
this was my old set up...
This is the set-up I've been looking at. Do you have blocks in the back or just the keys? Are these 305/55's? What is the offset of these rims? Thanks.