09 LMM leveled with 20s on 35s
---
This is my first thread and so i thought id give some history before i post some pics....well i finally switched over from Ford, I loved my F250. It was a 04 crewcab shortbed 4x4.
My last truck was leveled with 20" XD Monsters on Toyo 35s Loved that truck, looked awesome, but that stupid 6.0 SUCKED. I had some stuff done, and blew the Head Gaskets. After putting ARP studs and egr delete, etc etc etc i decided to sell the truck before it blew up on me.
Now i got an 09 crew cab short bed LTZ with 47k miles. Bought it from original owner, and it was taken care of really well. I decided i wanted the same look so i went with 20" XD misfits, with 35 toyos. I did the Large fender mod, and it worked great. I had to cut some of the plastic in the wheel well. The rims are 0 offset. just thought id post some pics for you guys that want to see what it looks like. the tires are 35x12.50xR20
I got that Gibson 8" exhaust for free, im thinkin it looks a little BIG so i might change it up. Gibson did some test fitting on my truck, so i think ill sport it for awhile. Im gunna do a egr block off, and get rid of DPF and cat. I dont wanna beat this truck up, so ill prolly get a PPE and just run it economy.
Heres the truck stock
Pics of the wheels and tires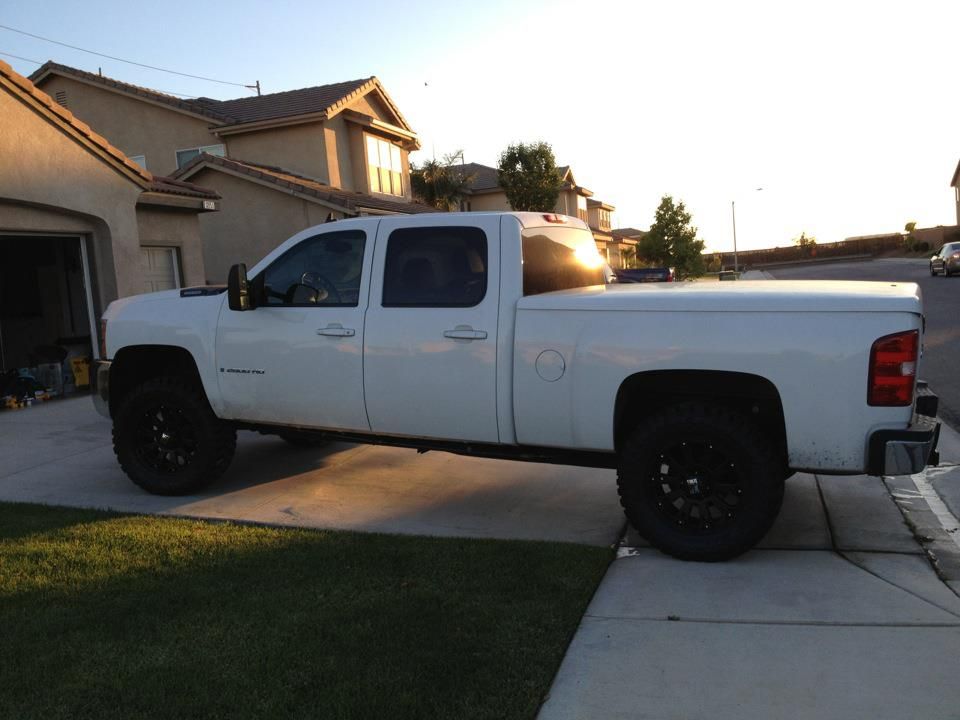 When the new body style chevys first came out i HATED them. The wheels wells are HUGE and the stock tires are so tiny. Then i started seeing these trucks lifted, and everyone was putting tiny tires. Once i saw the truck with the wheel wells filled with 35s, i was like WOWWW truck looks bitchenn!
let me know what u guys think...im loving the truck. Just hate the dumb weak front end on these trucks. But every truck has its pros and cons, and id rather deal with the weak front end then a weak motor.
Im also trying to sell the Snugtop tonneau cover. trying to get $850 for it. its in great shape, i just dont need it. im located in Southern california. I doubt it would be worth it to ship. PM me if ur interested.
PS the truck was super dirty in the pics...i had a real busy week and didnt have time for a wash.

Also im thinkin about painting the bumpers white and painting all the chrome on the grill black. Obviously i plan on taking it to a body shop and having it done the right way.
Looks killer man. What did you do to level it? Any pics of cv angels?
holy exhaust tip batman.
sweet looking truck man, that is super clean
it was just a tortion key level. I think they are cognitos, i got them from my brother in law, he upgraded to a 6" lift.

the CV angels arent horrible, but theyre not perfect. I actually dont even have the bolts maxed out. I lowered it down a few turns so i didnt have horrible ride. I can actually lower the front more, but i like the truck to sit a little higher in the front. Next purchase is cognito UCA to get a little better ride, and obviously im going to get the better tie rods and upgrade the steering components. Still rides pretty good to be honest.
im with you hate the huge wheel wells they are huge but with a stupid shape that wont support the size tires that does look good in them
---
2007.5 LMM S&B Intake 4" MBRP turbo back duals Edge Evolution Racing CTS
Man thats awesome!!! Thank you, you just convinced me to do the same. I was on the rocks about 35's,but dam that looks badass!!
---
Tyler
2013 GMC 2500HD SLT CC/SB Z71 4x4 __Kory Willis tunes, Flo-pro 5" no muffler, Egde Insight CTS2, B&W turnover ball, 275/65/20 Toyo AT2s on stock wheels, factory nerfs(missing my 3 steps) RDS 60gal fuel tank/toolbox combo,
Quote:
You can never have too much tire, only too much fender.
Banned
Join Date: Jan 2010
Location: On the Coast of Somewhere Beautiful
Posts: 5,738
Truck looks really nice.

I had my front end levelled with keys and shock extensions for a good amount of miles running 315/70/17's, the ride got pretty bad. I went with a 4" Cognito lift to sort out the ride quality and CV angles. My truck did not like 4WD with the truck levelled due to the bad CV angles, gave off a nice howl.
---
2008 LMM CCSB Black on Black SLT Z71
4-6" Cognito NTBD Lift - HD Tie Rods -All Steering Upgrades - Traction Bars
Downpipe - SS Exhaust
All Season/Dirty Hooker Diesel Built Trans
EFI Live with DSP5 (tunes by IdahoRob) - AIRDOG II 165
Gauges - EDGE - INSiGHT CTS

Thanks to Tim @ TNE Diesel.
Looks great man! I don't think the cognito arms will do anything for the feel of your ride unless you get new longer shocks as well. The only thing the arms will do is help correct your ball joint angles
---
2013 SILVERADO CCSB LML
RIDGE RUNNER DIESEL PERFORMANCE
AFE/FASS/S&B/EDGE/DEVIANT/BMF/COOPER/
KRYPTONITE/RANCHO/MERCHANT AUTO/
---
Last edited by mcullins91101; 07-16-2012 at

06:07 AM

.