Join Date: Dec 2017
Posts: 6
Help on removing CNG Dual Fuel System
---
Hey folks, just bought this truck from my neighbor. I'm very familiar with it as we've been neighbors for 10 years and I've towed with it from time to time throughout those 10 years...anyways, He had a local company put a CNG kit on it (I'm about 95% certain
Anyways, he had it removed about a year ago, but apparently that removal was really only the tank from the bed. The guy that installed it apparently didn't really do that great of a job to begin with and it gave the previous owners issues the entire time he had it. Well, that guy said all the under-hood stuff was fine to stay. I obviously beg to differ and want it out.
My biggest concern is any integration into the factory wire harness, which as far as I can tell is splicing into 4 different sensors (I found the MAF and Rail Pressure splices, as well as the EGT sensor on my own before watching this video, don't know where to find TPS and RPM)
Basically from what I can gather, they tapped into 4 factory sensors with splices and those 4 wires need to be clipped and taped so that they can't ground.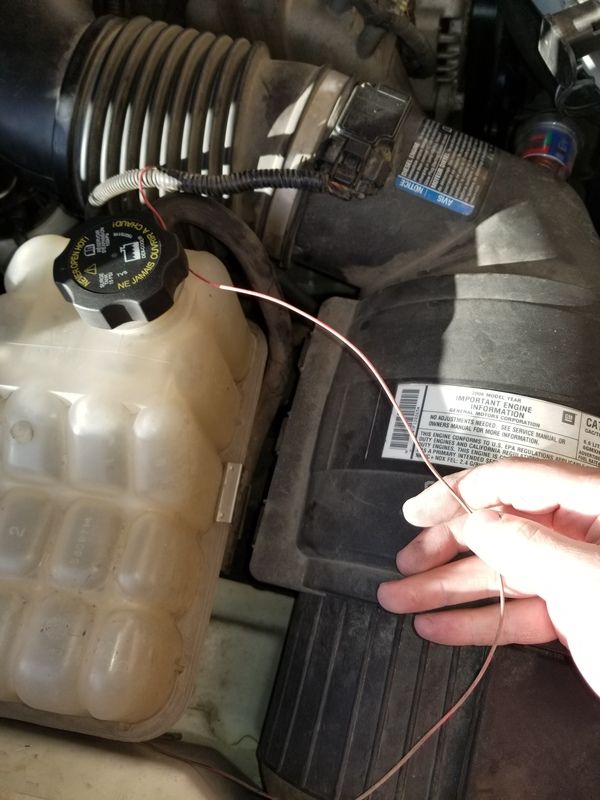 The MAF is just a single wire, and without cutting into the shielding I'm guessing I just snip it and tape it so it can't ground out and cause issues.
The Rail pressure looks a tad different that the MAF implementation in that there are two wires, I forget if I checked to see if the green one is just grounded or what. Anyways, clip the yellow and call it a day? or does it have to get connected somewhere else?
Not sure where RPM or TPS are, can someone enlighten me? Otherwise I'll go back and try and find them and I'm guessing it's the same story as above.
And the EGT temp I'll pull out since I know that's not any adaptation from a factory sensor.
As for the CNG ECU, it seems to be all part of the kit. From what I can tell none of that is factory and just needs to be yanked out and done away with. From what you can see in my video/these pictures is that correct to assume?
Also, it runs fine without a tank hooked up, is it likely that they have done anything to the factory ECU and respective tuning? I have thought it might be a good measure to get this system out and have my buddy who is a GM tech reflash the ECU for safety sake, might not be necessary though.
I'm guessing at least one person will say "call up the guy who installed it" and I will, judging by his videos and the fact that he sounds like a car salesmen who knows nothing about a car and is consequently blowing smoke out his ass, I can't imagine he'll be of much assistance. And also apparently
his business is for sale
. Can't possibly be because his systems seem to not work and have shitty install procedures....I'm hoping he might be able to provide me with install instructions which I can reverse the steps on, but not holding my breathe.
Thank you for your help in advance, I'm excited to finally have a Duramax of my own
---
2007 Chevy LBZ, 5" Exhaust, PPE Fuel Rail Pressure Relief Valve Block, FASS lift pump, EFI Live (with trans tune) from Duramax Tuner, EDGE Insite CTS2 w/ EGT as my gauges
Join Date: Dec 2019
Posts: 1
Just curious how your un install turned out? I just bought a 2500HD that has a kit on it. It had been partially disconnected by the previous owner. But I would like to completely remove it all. Any help, comments, tips or advice would be appreciated. Thanks!