BANKS SEQUENTIAL SUPER-TURBO DIESEL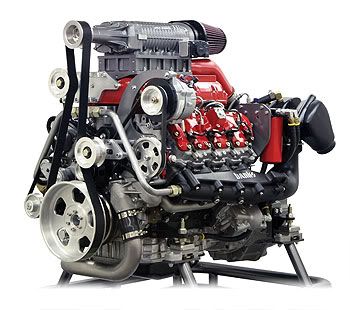 First on the list (and the most blatantly obvious) is the incredible Banks Sequential Super-Turbo (Marine Version) Diesel. Yes, that's a powerfully efficient sixth generation Eaton TVS supercharger topping off that Twin-Turbo 6.6 Liter GM Duramax-based V-8. It's pretty easy to note that "Boost Guru" Gale Banks has combined the best of both (extra-aspirated) worlds to produce a (pardon the expression) "mind-blowing" marine engine. The idea here is to combine the best of the two 'charging (super and turbo) systems for lightning-strike responsiveness and the very broadest possible power band on the water. Here's where great low end supercharging blends perfectly into top end turbo-power all seamlessly controlled by Banks/Bosch electronics. We're looking at 600+ very husky horsepower at only 3800 rpm here, and "over 1,000" (that's horsepower) with the addition of a competition-tuned nitrous oxide system along with upgrades to some key engine components.
BANKS TWIN-TURBO DIESEL STREET/STRIP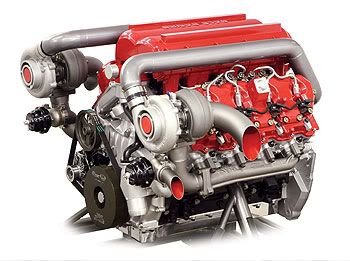 The Banks Twin-Turbo (Street/Strip) is a slightly civilized version of the Duramax V-8 that powered the famous Banks Sidewinder S-10 Drag Truck to record-breaking/record-setting performance on the dragstrip (7.77 seconds @ 180 miles an hour). With CNC-ported heads
and equipped with a unique, ultra-effective Banks air-to-water charge air cooler,
this engine also features a special Banks dry sump system, high-flow Bosch Fuel Injectors, and set of Carillo custom H-beam steel connecting rods topped with tough AL 2618 forged pistons. This Street Version is a hard-nosed, full-out competition model engine with barely enough manners to get by. "Responsive" is very often one of those sort of "relative" words, in this case it's the very definition of the particular unit in question. This definitely is NOT an engine for the feint of heart nor the shy and retiring. We're talking 800-plus horsepower and engine speeds approaching 6,000 rpm. Both of the above high performance Banks diesel engines share one very important thing in common: Banks advanced electronics on the control side of their specification sheets. Both of them utilize the digital engine magic of the famous Banks AutoMind Electronic Diesel Controller with the brand new Banks iQ vehicle user interface in command. This potent combination of Banks products produces the ultimate in Banks high-efficiency clean tuning that makes plenty of power without ever overstressing an engine.
BANKS OEM ("CRATE") DURAMAX DIESEL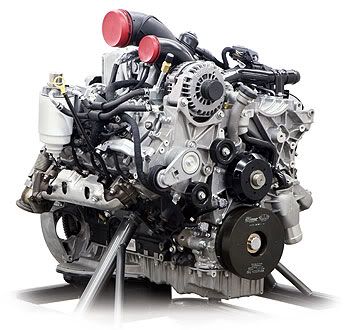 Adding to the above one-two combination punch of high performance Duramax engines from Banks will be a much-anticipated basic stock model. (Of course, the word "stock", when referring to engines means something a little different to Gale Banks than it does to others.) A true "crate" engine, this is the current General Motors Duramax 6.6L V-8 factory-fresh, but carefully inspected at the Banks facility, and equipped with a universal wire harness, fuse block, and circuit breakers. This engine comes complete with a Banks AutoMind electronic diesel controller along with proprietary firmware that can be factory-tailored to a generic or custom calibrations. This engine is the basic building block of Banks' most recent drag racing successes, capable of handling heavy performance and power modifications. But, even in this unmodified form it will be a reliable workhorse for many applications. This engine's intended use is for off-road and other emissions-exempt use only
BANKS TWIN-TURBO (Gasoline)
Along with the above set of amazing diesel engines, the Banks exhibit will also feature one of its signature gasoline-fired Banks Twin Turbo Chevrolet V-8 engines. Hundreds of these legendary small blocks have been sold both as complete, ready-to-install units as well as in kit form to performance-minded people for nearly a decade now. Utilizing all of the best individual components on the market, and painstakingly put together in the Banks Race Shop clean room by top pro engine builders, these spectacular, show-quality engines represent the ultimate in power, style, performance, and reliability. These super engines are available directly from Banks in a range of outputs from 600 to 1100 horsepower