We are happy to anounce a new project for NorCal Truck.
The idea behind the build:
Growing up in an environment where camping was a frequent activity and the basis for just about every family vacation, it's only natural that it has carried over into my own family and I plan to continue this for years to come. Although loading up the wife and kids for a week-long trip to the sand dunes is always fun, I have become increasingly interested in traveling to unmarked and remote areas "off the grid". As this interest continues to grow, I have come to the realization that the current camping set-up with a large travel trailer or toy hauler is not exactly ideal for the exploring and adventure seeking I'd like to do. This is where the idea for this build has come from – the desire to have a scaled down camping set-up that will not only get my crew and I where we want to go safely, but also be equipped to house anything and everything needed to survive in any territory we choose as our destination. Without a travel trailer or toy hauler to pack up, prepare, and pull, the ease and frequency of our adventure taking will increase and the destination possibilities are virtually endless. Whether the activity ahead involves motorcycles, UTV's, mountain bikes, boating, fishing, or hunting, the "X-Max" will be ready and rearin' to go. Life's short & I'm not getting any younger, so it's about time to get out there and find out what these great United States have to offer!
Build Mission:
Create a Chevy 2500HD truck that has as many amenities as needed to survive the great outdoors, with enhancements throughout the interior, exterior, and all the way down to the suspension. Stocked with fresh clothes, food, water, and whatever extra equipment will be needed for the weekend activity ahead, once 5:00 on Friday evening rolls around, the "X-Max" will be ready to go!
Current rendering: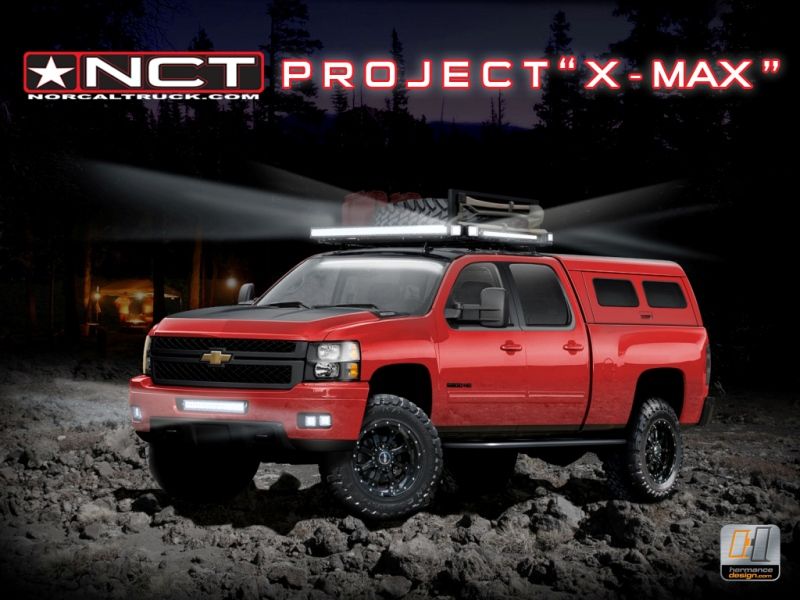 Here is a list of what we will be stuffing this truck with.
Exterior:
Cab roof rack
Bed shell
Shell roof rack
Roll out awning
Roof rack storage compartment
Dual spare tire mounts
Mounted floor jack
Shovel & Ax
Mountain bike mounts
Custom front and rear bumpers
Cab rock sliders
Dual Motorcycle rack
Cab Interior:
GPS
CB Radio
Built in WiFi
Dedicated satellite phone for vehicle
Long gun and ammo lockable storage
Hand gun safe
Fire extinguishers
Electronics:
Generator
Lights everywhere of course
Under body lights
Portable refrigerator
Extra truck batteries
On board pressure washer
On board Air with connections front and rear with tank
Survival Gear:
Recovery equipment
Winch front and rear
Fuel jugs
Complete first aid kit packed for every emergency
Fresh water tank with water pump
Plumbed for shower head, washing hands, food, dishes
Water heater
Propane Tanks
Porta potti
Changing room
Foldable table & Chairs
Custom storage slide-out drawers with bed top for sleeping inside shell
Gas stove / BBQ
Cooking supplies & eating utensils
Tool chest
Suspension, Tires & Wheels:
4" lift
Upgraded shocks
Upgraded steering
Front and rear sway bars
Full leaf packs
Long Travel helper bags
Traction Bars
35" Mud Terrain tires
18" wheels
2 full size spares
Performance:
Gears
Upgraded lockers
Turbo back exhaust
Intake
Tuning
Upgraded tranny
Larger fuel tank
Some product is already on its way and we should be getting started very soon on the build stages. I will be adding plenty of pictures as we make progress building this rig. This truck build is a new direction for me, and I may be missing some vital accessories or gear needed for any situation. If anyone would like to add their thoughts and/or personal experience, or if you just want to comment, please feel free!
Here is the foundation of the build in 100% stock form:
2008 Chevy 2500HD LT2 4wd Crew Cab Short Bed 6.6L Duramax Allison 6speed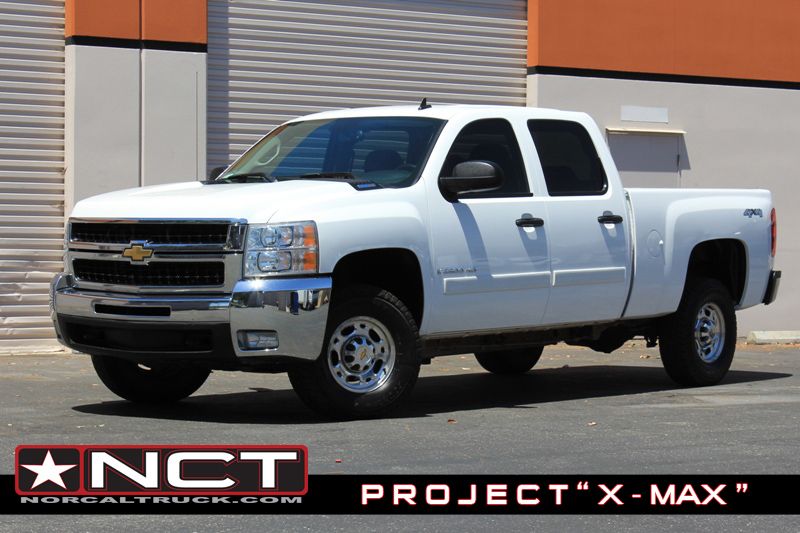 If you would like to follow this build to see updates, feel free to comment or subscribe to this thread.
Thank you,
Nick
.